Digital Typeline has been one of Scotland's leading digital print companies for over 25 years. Based in Edinburgh, the family business provides digital print to a range of sectors including a trade service to both litho and often digital printers unable to produce laser cut, foiled, white printed or landscape formats amongst other specialist products.

DTP Managing Director, Alun Joseph said "Having used a small business card cutter for a few years, DTP had been considering the purchase of a more competent and faster machine. The Magnum offers a lot of features at a very approachable price point. The Magnum will take a lot of work away from the guillotine to ease the bottleneck there. We are producing a lot of orders of A4 leaflets at ten, twenty or thirty copies throughout every day. The Magnum means we don't have to wait to batch them to cut at the guillotine nor spend ages splitting the orders once cut. The conveyor delivery means it is easy to pick up the orders for dispatch and we can just throw the same format orders at it as they are printed."

Mr Joseph continued: "We also have a number of repeat format orders for things like tent cards and folded business cards. Previously these would be cut at the guillotine and creased on an existing folder or possibly even hand creased. These items and several other like it will now be ready to dispatch straight off the Magnum with the operator time only loading and selecting the program rather than standing cutting and creasing. The barcode reader gives us even more time saving when setting up the job to run and with or without barcodes, switching between formats is so quick."

"Vivid's Magnum MCC-35AS allows us to ease the pressure on several other pieces of kit and saves us hours of operator time in a day. The Magnum cuts and slits cleanly and has handled all sorts of laminated and even heavy weight synthetic stock. It sits very well with the repeat formats we produce every day and for that reason is proving to be a key piece of equipment in our constant drive for efficiency."
Vivid's recently released range of Magnum print finishing solutions includes systems for cutting, creasing, perforating and folding. The range is ideally suited for any print operation but, in particular for digital printers. The Magnum range is designed to reduce the need for costly outsourcing or to speed-up existing in-house finishing, making printers more efficient and therefore more competitive, whilst improving customer satisfaction with faster production times.
For further information please visit our website www.vivid-online.com/products/finishing.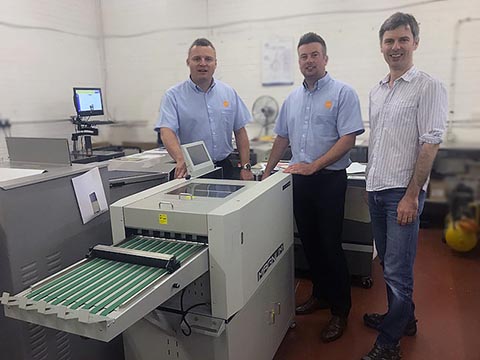 (L to r) Vivid Sales Director, Richard Marlow, Vivid Technical Manager, Gavin Ward and DTP Managing Director, Alun Jospeh.