Swiss manufacturer increases direct representation in the USA and Canada
Gietz USA LLC offers sales and services of the entire Gietz product portfolio
Gietz machines have been sold into North America since the late 1970s
Gietz AG, the family-owned Swiss leader in flatbed hot foil stamping and embossing machines, is going to cooperate with Gietz USA LLC to increase its direct representation to existing and new customers in the USA and Canada. Gietz USA is an independent entity founded recently with the aim to distribute Gietz and associated products.
Effective July 2, 2018, Gietz USA is offering sales and services of the entire Gietz product portfolio from Southington, Connecticut.
With the establishment of Gietz USA, Gietz AG increases its direct representation in the USA and Canada. Gietz machines, services and spare parts will be offered directly and without intermediaries to the North American market to provide the best financial and technical conditions.
During a transition phase lasting until the end of 2018, Matik Inc., the long-time Gietz distribution partner for the USA and Canada, will continue to sell spare parts in the territory as before, while Gietz USA will immediately takeover all service of Gietz equipment.
Gietz USA has been founded by Alexander Balke, president and owner. He has over 10 years of experience in the foil stamping and embossing industry. Balke has worked closely with Gietz AG for more than three years and has been factory trained and certified.
David Siegel of Matik Inc. states: "Alex has been a great asset to Matik ever since he came to this country. His technical knowledge and attention to detail is second to none and we wish him the best of luck with this new endeavor. Customers are lucky to still have him available."
Gietz sheet-fed and web-fed hot foil stamping machines have been sold into North America since the end of the 1970s. The majority of the 150 installations are still in daily use, proving their legendary reliability and durability in the printing and converting departments of packaging and security printers.
Hansjörg Gietz, managing director, Gietz AG, explains: "The North American packaging market is considered to be the highest in value but certainly the most competitive. We see ourselves as the leading manufacturer of hot foil stamping machines in terms of quality and performance. While we appreciate what Matik has provided over the years, my goal is to expand our installed base in the USA and Canada through a sales and service approach that gives us direct access to customers. This enables us to offer attractive conditions for both machine sales and services."
The Gietz portfolio includes the full size sheet-fed FSA 1060 Foil Commander, a foil stamping machine used widely for finishing of folded boxes in food and non-food applications, as well as finishing of greeting cards, labels and magazines. The FSA 1060 Foil Commander is also the machine of choice for many companies in the security industry. The Gietz ROFO 450 is used in the finishing of printed and non-printed narrow web substrates for labels, flexible packaging, folding carton and brand protection. It is also ideally suited to the security industry. Both feature the patented VACUFOIL foil transportation system, which enables processing of foil rolls with a large diameter and the longest foil pulls, resulting in excellent foil saving capabilities and huge production output.
These products are rounded off by the half size sheet-fed FSA 870 and the web-fed ROFO 910 and ROFO 1020, ending up with the tray forming machine HTF 940/1270.
Gietz foil stamping machines can apply single-picture holograms and stripes in register for security applications. On sheet-fed machines, the dwell time can be elongated up to 2.5 seconds for unbeatable combo effects in foil stamping and embossing with micro and nano effects.
For further enquiries:
Gietz USA LLC
360-B Queen Street #346
Southington, CT 06489
www.gietz-usa.com
Phone: +1 (860) 973 4680
Fax: +1 (860) 973 4681
Email (sales, parts and services); [email protected]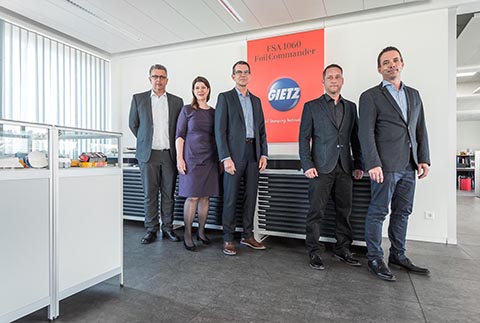 The Gietz management team is delighted about the new possibilities in the USA and Canada through its increased direct presence. Pictured (left to right): Michael Grau - Sales Director, Gietz AG; Claudia Gietz - Managing Director, Gietz AG; Paul Mattle - VP Sales North America, Gietz AG; Alex Balke – President, Gietz USA; Hansjörg Gietz – Managing Director, Gietz AG.