Ghent (Belgium) – Esko's (www.esko.com) UK team hosted a successful Open House in Leicester earlier this month, with partners Data Image, Clarity Software and reseller CMYUK. With over 80 customers attending, the event was staged to showcase the latest Esko C66 digital cutting table with the new Robotic Material Handler, as well as Esko's fully Automated workflow solutions.
The high attendance was a clear indication that companies are increasingly aware of the benefits of having a fully automated large format digital production and guests were able to see examples of how to address shorter lead times and to handle the problems of waste. The Open House also looked at the market's demand for equipment to handle more complex designs using a greater variety of substrates and importantly, increased automation for continuous production.
With a full agenda, the one-day event included demonstrations on Esko Automation Engine for file processing and the reduction of bottlenecks, WebCenter for ordering and job approval and Artios CAD for layout and design. Clarity Software's, Richard Gamlin spoke about the need for accurate pricing and end-to-end solutions for the large format and graphics industries.
Rob Farfort, the Founder and Owner of Data Image gave guests a great insight into his business and the investment made in Esko solutions and the subsequent successful transformation of his business. As he proudly welcomed guests into the impressive space featuring the Esko Robot Material Handler and C66, and concluded his presentation by saying: "Being a part of this exciting journey with Esko developing the technology for the future of the large format industry is what Data Image is all about."
Tim James of NEC Graph-fix also shared his company's story and how his company recently installed the Esko C64 cutting table and Esko Feeder and Stacker. He said: "With Esko tools we can say yes to a wider diversity of jobs. By automating our finishing department, we will be able to manage any large format job out there. As an ideas, innovation-led business we believe we have found the perfect partner to take us on to the next level and beyond."
Speaking at the event, James Mason, Esko UK Sales Manager said, "Esko believes it is vital to have regular events to keep clear communication channels open with customers and partners. Award winning Esko technologies have led the way in the packaging sector and now we are doing the same for the wide format sector."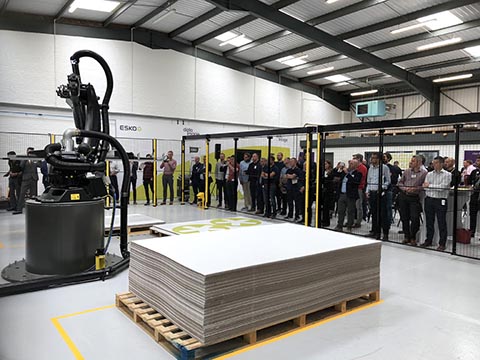 Esko's Robotic Material Handler with safety fence at Data Image.