Mexican distribution partner IDICSA achieves sales growth of 21 percent

Tuttlingen, Germany – Mexico is becoming an increasingly important market for German printer manufacturer Leibinger GmbH & Co. KG. In 2017, IDICSA, a major Mexican distributor, increased sales of industrial made-in-Germany inkjet printers by 21 percent. An even stronger market presence is planned for the future.

Mexico City City is one of the most significant industrial sites in Mexico. In this business metropolis, IDICSA, Leibinger's key Mexican distribution partner, succeeded in increasing sales of German industrial printers in 2017 – by 21 percent compared to the previous year. "The made-in-Germany industrial inkjet printers are popular in Mexico, especially due to their reliability and performance," explains Alejandro Butanda, Managing Director at IDICSA, a company with close to 20 employees specializing in marking and coding, labeling and process automation. Since 2009, IDICSA has been a certified Leibinger distributor for Mexico City and Monterrey. "We are proud of the success that our company has achieved with Leibinger products and we look forward to further expanding the company's market presence in Mexico in the years to come," says Butanda, who founded the company in 2004 together with the second Managing Director Guillermo Cadena.

Jan Visser: "Leibinger greatly values its strong partner in the growing Mexican market"

More than half of Mexico's industrial output is located in the capital, Mexico City. IDICSA serves a variety of markets in the metropolis – such as the automotive, wire and cable industries as well as the food, beverage and consumer goods industries.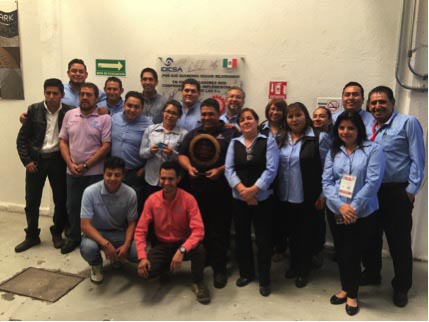 The team from Mexican labeling specialist IDICSA is delighted to be honored with Leibinger's Best Latin American Distributor Award 2017.

"In the growing Mexican market, Leibinger highly values a strong and committed partner like Idicsa," said Jan Visser, Vice President and Managing Director of Paul Leibinger Inc., on the occasion of IDICSA being honored with the award for Best Latin American Distributor 2017. "The partnership has distinguished itself for years with close collaboration, open dialogue and a constructive exchange of ideas. And it will no doubt lead to further growth in the coming years."

The JETOne entry-level model promises to strengthen the company's market presence in Mexico

To further increase market presence, IDICSA will be increasingly promoting the new JETOne small-character inkjet printer over the next few months – an entry-level model that will enable even small industrial companies to enter the world of continuous inkjet (CIJ) marking and coding. In CIJ printing, tiny, electrically charged drops of ink shoot through a nozzle in the printhead. A high-voltage field changes the trajectory of individual drops, so that they end up as a pixel or tiny dot on the product – for example, on a milk carton, a beverage can or on an electric cable.

Information such as best-by date, batch number or product name can be printed in a fraction of a second without contact. Visser is extremely confident: "Competitive pricing and Leibinger's proven reliability will ideally equip IDICSA to further expand market presence."