Booth 76 demonstrates latest AI developments and integrations for uniting planning and imposition
Ottawa, Canada – Tilia Labs, a leading developer of planning, imposition, and automation software solutions for the graphic arts industries, will be attending its first Dscoop event, Unleashing Print Vienna 2018, June 13-15.

Presenting solutions for packaging, labels, commercial print and wide format on Booth 76 at the Messe Wien, Tilia Labs is highlighting recent developments and strategic integrations that extend the range and usability of its high-speed imposition solutions.

"As a young company with an impressive portfolio of successful installations and strong technology partnerships, we feel the time is right for us to make our mark in this community," says Sagen de Jonge, CEO of Tilia Labs Inc. "Dscoop is all about being ahead of the trends and helping shape the industry we serve, and we have a lot to offer the industry in that respect. We're looking forward to meeting and sharing ideas and opportunities with fellow innovators and trendsetters in Austria."

tilia Phoenix, Tilia Labs' flagship solution, draws on new developments in Artificial Intelligence (AI) in automating planning and imposition for all types of devices and print applications using advanced nesting, die cutting, guillotine optimization, and planning algorithms. The system factors in parameters, such as job specifications (quantity, dimensions, colors, substrates), presses/print devices, postpress requirements, and delivery considerations, to deliver optimal layout options.

Currently integrated into MIS and workflow systems from Enfocus, Cerm and Aleyant, providing "Plug and Play" functionality, tilia Phoenix enables users to search across millions of combinations in minutes and dynamically, to find the most cost-effective, imposed layouts. Changes made to artwork files outside of Phoenix are automatically detected and updated. In the same way, unanticipated changes in production capacity are also easily accommodated, according to The Bernard Group of Minnesota, USA:

"If we have to take a press offline for any reason, we just spring the job ticket over to a different press and the necessary adjustments are automatically made to the imposition plan," commented Diego Diaz, Solutions Architect for Workflow and Print Systems with the Bernard Group, earlier this year. "Phoenix is genuinely cross-platform. It does what it does really, really well for large format and small format, on HP Indigo, Fuji J-Press, Vutek, and on all our presses and finishing equipment."

In addition to Phoenix, Tilia Labs is also highlighting tilia Griffin at Dscoop, its solution specifically for wide format production. Drawing on the powerful Imposition AI nesting engine, this offers true shape nesting with any rotation, dynamically calculating the most cost-effective way to produce jobs and minimize substrate waste and associated costs.

Tilia Griffin was recently developed by Tilia Labs into a fully self-contained app specifically for the Enfocus Switch platform. The Griffin Pro App was built with two modes, basic and advanced, providing users with a quick and easy way to get started while offering the ability to scale up as more capabilities are required. This innovation was recently recognized by the European Digital Press?Association (EDPA) and awarded with an EDP 2018 award for workflow technology on May 16th. The Griffin Pro App is available exclusively via the Enfocus Appstore and can be trialed for free before committing to a purchase.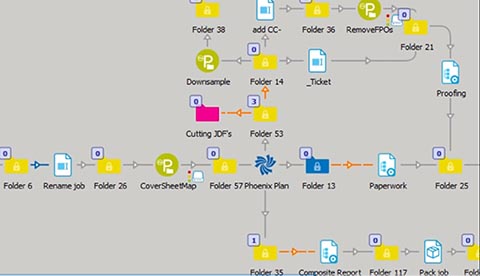 At the company's first DScoop event – Unleashing Print Vienna 2018 – Tilia Labs presenting multi-platform dynamic imposition across print and finishing applications (Booth 76).