Konica Minolta Clients Receive Elite Honors for Digital Special Effects
MGI JETvarnish 3D Winners at FSEA Conference
Melbourne, Fla. – The international Foil & Specialty Effects Association (FSEA) recently held its annual conference outside Nashville, Tennessee and three Konica Minolta JETvarnish 3D customers received a total of 11 prestigious Gold Leaf Awards for their impressive creative craft work with digital print embellishment technology from MGI.
The winning Print Service Providers (PSPs) were: Seidl Bindery, Houston, TX; DMS Color, Birmingham, AL and Print Panther, Toronto, ON. The enhanced print applications that were honored ranged from brochures, retail merchandising & point-of-sale (POS) display signage, event invitations, mailpieces, magazines, program covers and luxury packaging labels across 9 different judging categories.
The Elite Peak of Tradecraft Finishing
Kevin Abergel, MGI Vice President of Marketing & Sales, congratulated the winners by stating, "The FSEA's annual Gold Leaf Awards program recognizes some of the most artistic and highly skilled printing achievements in our business. So, we're very proud that the expert FSEA judges recognized that our friends at Seidl, DMS and Print Panther used the digital JETvarnish 3D process to achieve spectacular results to rival the quality of conventional analog methods used for decades."
Digital Embossed Foiling Quality Honored
Abergel continued, "It is truly impressive to see the creative designs and expert production techniques of our customers being selected by the judges as the best in the business. Seven of the eleven winning entries that our clients received for superb quality were chosen in general application categories via direct comparison with traditional die-stamping methods of foil embossing. We believe that such results confirm the value of our digital embellishment processes to produce the highest level of decorative special effects on offset, flexo and digital print output."
"Our mission at MGI is to help our customers show the potential of digital embellishment to transform 2D colors into 3D physical and emotional experiences – and energize the power of print for their customer communication campaigns." concluded Abergel.
Seidl Bindery Inc. (SBI) 2018 FSEA Gold Leaf Winners

Founded in 1975, Seidl Bindery is a leading national trade finishing house that has been providing mechanical binding, perfect binding, and other postpress solutions to printers and packaging converters over 40 years. They offer a complete range of mechanical & perfect binding, die-cutting, embossing, folding, gluing, laminating, collating, tabbing, hand-kitting and other print support services.
Print Panther 2018 FSEA Gold Leaf Winners

The visionary spirit of Print Panther led them to implement the first JETvarnish 3D solution in Canada. Since then, they have developed a unique digital design model that utilizes creative graphic artwork and omni-channel print campaign models to elevate corporate brand identities in the marketplace. They also specialize in deluxe binders, presentation folders, notebooks and integrated print & mail projects.
DMS Color 2018 FSEA Gold Leaf Winners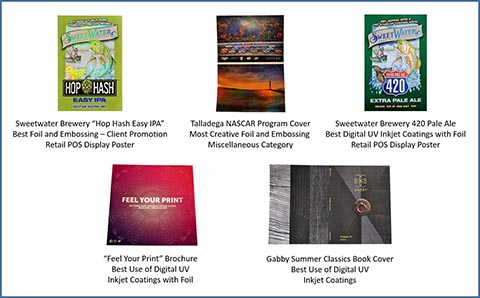 DMS Color was established in 2006 as a print technology and marketing services firm. Their DigiFLO® platform (Online Print Management System Software) has been adopted by companies across the United States as a core infrastructure for print media management and fulfillment. They also offer a complete suite of graphic design and commercial print services, including wide-format, retail signage, promotional products, and direct mail.
For more information, please visit www.mgiusa.com and www.konicaminolta.com. Follow MGI and Konica Minolta on Facebook @MGIonline & @KonicaMinoltaUS and Twitter @MGI_USA & @KonicaMinoltaUS for the latest printing industry technology news.