Sydney Stone has been a Morgana System dealer since the early 80's. With the growth in digital printing Morgana has harnessed technology to eliminate cracking, automate setup and provide reliability with creasing, folding and booklet making equipment.
"The Morgana range of products has been highly sought after for its automation and ease of setup coupled with reliability. In 2017, we found that on top of the already popular creasing and folding systems, our customers have had a desire to invest in Morgana's latest booklet making systems which feature a high level of automation ." Said Michael Steel with Sydney Stone.
Sydney Stone is a dealer for a variety of manufacturers and prides itself on providing customers with the right solution based on their applications.
"Sydney Stone has done a fine job for us for a number of years and in 2017 they topped our list of Worldwide dealers. We at Morgana want to thank them for their effort in promoting Morgana products in Canada. We hope that with the recent cUL approval of our PUR perfect binders as well as the launch of our new AutoCut PRO slitter/ cutter/ creaser will help them achieve growth in 2018 again." Says Ray Hillhouse from General Manager of Morgana Systems.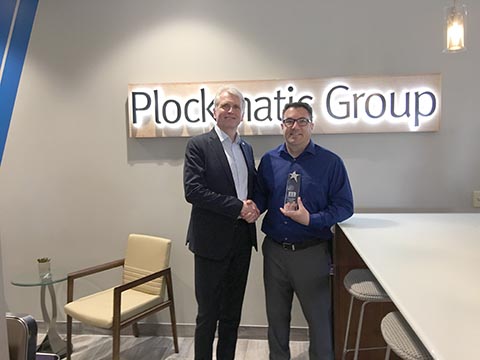 Michael Steele, Sydney Stone, and Jan Marstop, CEO of Plockmatic Group (parent company to Morgana Systems).