St. Louis, Mo. – BALDWIN Vision Systems, in partnership with ColorConsulting, will demonstrate its color management and defect detection technology at Print4All, held May 29-June 1 in Milan, Italy. BALDWIN Vision Systems is a new business unit formed by BALDWIN Technology Company Inc., strategically combining the businesses and technology of PC Industries, QuadTech, and Web Printing Controls to form industry's most comprehensive portfolio available for print process automation, inspection and related services.

"Following the success of expositions with our new dealers around the world, we are excited to welcome visitors in Italy. We are eager to demonstrate the products born from the partnership between BALDWIN Vison systems and ColorConsulting," says Carlo Carnelli, ColorConsulting's General Manager. "We have powerful solutions—such as ColorTrack and InkWeigh—to help printers simplify the complexities of color quality management. We are also eager to introduce a new solution for inspection to the European market, built specifically for the label and narrow web industry."

Among the featured solutions (Hall 18P, Booth E31-E32):

ColorTrack™ is a unique color management software for flexo and gravure packaging applications, and a highly adaptive "color expert in a box" solution for packaging printers. With a variety of options for hand-held and inline spectral measurement configurations, the software facilitates fast, accurate press-side correction of ink formulations. Without any hardware modifications to the press, ColorTrack automates the process of delivering absolute consistency from press-to-press, shift-to-shift and plant-to-plant. The software can also enable press operators to make color corrections without ink reformulation, by suggesting process adjustments such as ink strength or anilox changes.

Color Measurement with DeltaCam™ makes advanced, inline spectral measurement affordable for individual packaging print houses. For about half the cost of other inline systems, package printers can utilize accurate, 31-channel spectral measurement on film, paper or board—ensuring that all printed product is within their customers' color specifications. The ISO-compliant technology, supporting M0 and M1 measurement conditions, enables printers to reduce time and waste, while confidently maintaining color throughout the roll—without the need to wait for a roll change to measure with a hand-held device.

With InkWeigh, press operators can view and weigh ink recipes received from the formulation software to easily make press-side corrections. InkWeigh's History Module stores correction information to achieve better color on the first blend the next time the same recipe is needed. Besides more efficient production, the stored data helps to limit liability, and gives printers the ability to organize and re-use leftover ink inventory—significantly reducing ink costs and storage space.

Inspection System on ICON™ provides true 100 percent inspection on 100 percent of your print or non-print product—100 percent of the time. Utilizing the most advanced algorithms in the industry, the Inspection System on ICON can detect and classify a wide variety of defects, such as ink spots, register/color variation, content issues and streaks.

Guardian PQV advanced 100 percent inspection system is a feature-rich system that provides true 100 percent print inspection for pharmaceutical, converting, label, flexo, wide, and narrow web applications. At home on any press or slitter/rewinder, the system provides unparalleled power and accuracy through defect detection, OCR/OCV, bar code grading and verification, dimensional gauging and much more.

Guardian OLP PDF proofing and off-line inspection system can automatically find and highlight differences in print quality from an approved master image. The Guardian OLP can compare a one-up electronic file or scan to a multi-up electronic file or scan. This system will detect printing defects, such as missing or extra print, pre-press errors, plate defects and color variations.

Graphic-Vision® 500 Series web viewers are easy-to-use systems designed with industrial, high-performance parts. These systems feature long-lasting LED lighting, making them perfect for high-speed applications. The GV-530 offers advanced camera multi, programmed and combination positioning, in addition to automatic lateral and linear scanning.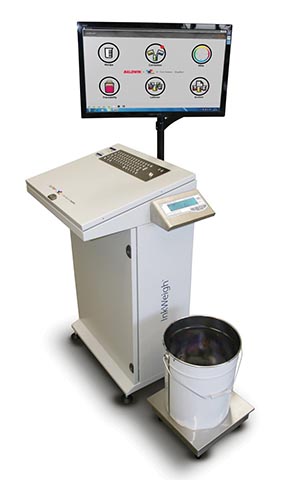 With InkWeigh, press operators can view and weigh ink recipes received from the formulation software to make press-side corrections.