An expert with considerable practical knowledge of measurement and control technology as well as automation technology returns to BST eltromat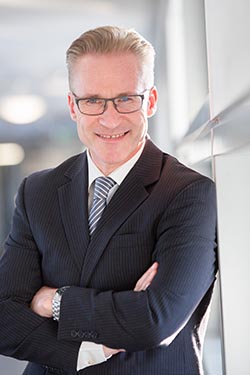 Bielefeld – Siegfried Steggemann (54) took over control of BST eltromat's BST ProControl business unit on April 1, 2018. Even during his engineering degree, Steggemann focused on design technology as well as measurement and control technology. After completing his degree, the engineer started his career at BST eltromat parent company EMG Automation GmbH in the strip guiding unit in metal manufacturing. After a year, he accepted an offer from the EMG subsiduary BST International. Steggemann worked there from 1990 until 2001 in various positions in technical sales, including leading the order processing center. Over the years that followed, he expanded his practical experience of measurement and control technology as well as automation technology at other companies. He will now contribute his comprehensive know-how at BST ProControl.

"When I applied for the advertised position, I didn't know that it was at the company where I spent eleven very interesting and exciting years at the start of my career. I was even more enthusiastic when I found that out. I am fascinated by the potential that BST eltromat has developed since then as a supplier of a comprehensive solution portfolio for quality assurance in web-processing industries. I look forward to being able to make the best use of this potential with my colleagues when optimizing our customers' processes." That is how Steggemann describes the aims of his position. From his point of view, BST ProControl's solutions are the perfect complement to BST eltromat's portfolio, giving customers a more holistic view of their processes. "The basis weight and thickness measurements are becoming more and more important parameters to our customers. These can make a significant contribution, not only to increasing product quality, but also to improving the efficiency and economy of production processes."

In 2013, BST eltromat founded BST ProControl GmbH as a 100% subsidiary through the acquisition of the companies Betacontrol and Protagon. The company was thus able to expand its portfolio by adding solutions for the measurement and quality assurance of flat materials. Since the start of 2017, BST ProControl has been completely integrated in BST eltromat's business processes and has since been run as an integrated and autonomously acting business unit of the company at its location in Wenden.

"We are pleased to have been able to obtain Siegfried Steggemann to manage our BST ProControl business unit. With his comprehensive practical experience of measurement and control technology, and as a former BST employee, he will find his feet quickly in his new position – and will be able to act as a competent partner for our customers with his overarching view of the various quality assurance tasks when it comes to optimizing customer processes." That is how Kristian Jünke, Managing Director for Sales and Service at BST eltromat International, welcomes Steggemann's return to the company.

More information available at: www.bst.group.