St Albans – Zünd UK Ltd and its European colleagues will be collaborating with a number of other leading brands at the FESPA Global Print Expo (May 15th to 18th 2018, Berlin, Germany), with Zünd representatives taking part in no fewer than six separate spaces.
In a display of the Swiss family company's versatile, forward-thinking approach at the four-day, multi-market event, Zünd's expertise will be demonstrated on the stands of HP, Kornit and Dover Digital Printing, at the Digital Corrugated Experience and the Trends Theatre, and at Zünd's own technology-filled booth.
Discover the cutting and finishing dexterity of the Zünd S3 M-800 alongside the next-generation HP Latex R Series at HP's stand (Hall 3.2, Booth C20), running both flexible and rigid substrates, and take time to see the Zünd S3-1200 processing different types of garment and home furnishing fabrics with Kornit Digital (Hall 1.1, Booth A20).
Just in time for the World Cup, over at Dover Digital Printing's 250sqm Sports Factory space (Hall 2.2, Booth C14) Zünd will collaborate with Nike, Puma and Adidas and print industry brands MS Printing Solutions, JK Group and Monti Antonio to demonstrate a complete production workflow for custom-made football shirts. Perfect for athletic wear, the Zünd S3 L-1600 with cradle feeder will complete tension- and wrinkle-free cutting processes on stretch fabrics.
In addition, Zünd will be part of FESPA's education areas. In the Trends Theatre (Hall 3.1, Booth A40), Zünd Head of Sales & Marketing Stefan Lang will be on the panel for a discussion called 'Boxes, Little Boxes – Digital Printing and The Packaging Industry' (May 17th, 2pm), while the Digital Corrugated Experience will feature eye-catching packaging and retail displays made from corrugated cardboard, cut on Zünd systems.
"Versatility is the watchword at FESPA 2018 so we're looking forward to demonstrating Zünd systems with a variety of brands, materials and applications," comments Matthew Tillett, Sales Manager of Zünd UK Ltd. "As well as collaborations with HP, Dover Digital Printing, Kornit and the FESPA organisation itself, the UK team from St Albans will be working with our Swiss counterparts to share knowledge and pass that on to visitors from across the world."
Zünd's own stand (Hall 1.2, Booth B50) will comprise a comprehensive presentation of even more high-performance, multi-functional cutting systems from Zünd, including the Zünd D3 with Board Handling System (BHS). This substantial system can effectively double production, thanks to its two independently operated beams and up to three different tools.
Visitors will also be able to see the incredible unattended production potential of using the latest version of Zünd Cut Center (ZCC) software together the new Over Cutter Camera (OCC); the fast and safe one-step finishing process of the LM 100W Cut and Seal Laser Module for fabric and soft signage; and the RM-L 3.6kW router spindle and Automatic Router Bit Changer (ARC), powering through hard sign-making materials including wood and acrylics.
FESPA Global Print Expo will be held at the Messe Berlin, Germany from May 15th to 18th 2018. To book a meeting with Zünd UK Ltd at Hall 1.2 Stand B50, or for further information on Zünd cutting systems, please email [email protected] or call 01727 833003.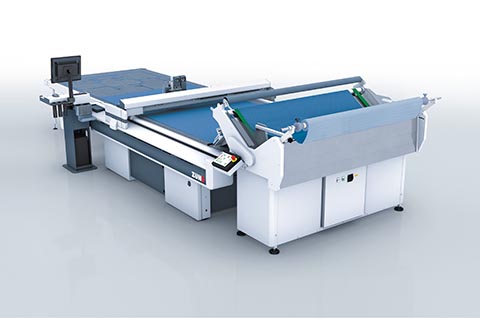 Zünd innovations including the cradle feeder and RM-L 3.6kW router spindle will be on show at FESPA.