St Albans – Zünd UK Ltd has said goodbye to another successful edition of Sign and Digital UK, having more than doubled its presence at the show.
The signage, display and graphics industry event, taking place at Birmingham's NEC from April 24th to 26th 2018, saw Zünd UK Ltd hold court at both its own stand and with a partnership with leading print manufacturer Canon.
Featuring the clean red, black and white branding of Zünd, stand K30 attracted attention for its next-generation cutting systems, in particular a Zünd S3 L1200 fitted with a robotic arm. The robot was configured to automatically pick cut parts off the machine bed – including a globe graphic showing Zünd subsidiaries and resellers across the world – without operator intervention. This freed up Zünd UK Ltd team members to explain the features of the Zünd S3 to Sign and Digital UK visitors, in the same way that its automation and accuracy allows operators to focus on other areas in production in real-world situations.
Next to the S3 was a Zünd G3 3XL1600 with modules designed for textile finishing – a key and growing application for the sign and display market. This was also equipped with the new Over Cutter Camera OCC, which is used to read all registration marks on a printed job in one photo, thus reducing production times further.
Also on show, and representing the opposite end of the scale from soft signage, was a Zünd G3 L2500 fitted with the RM-L 3.6 kW router spindle module. The RM-L delivers a routing depth up of to 50mm on a variety of materials, with a pneumatic clamping system and automatic router-bit changer ARC to automate jobs on rigid boards such as acrylic, aluminium, MDF and PVC.
The Zünd UK Ltd team was also on hand at the Canon stand, demonstrating a Zünd S3 M1600 as part of a seamless print-to-cut workflow. The S3 M1600 was put to work cutting a variety of different media such as rigid PVC and aluminium composite, adding to the buzz at stand H10.
"With four Zünd systems demonstrating very different applications, Sign and Digital UK was a great opportunity to showcase the true versatility of our range," comments Matthew Tillett, Sales Manager of Zünd UK Ltd.
"Along with their robust build, the innovation of Zünd digital cutting tables lies in their modular construction, which allows users to install the exact machine they need at the time of purchase and to make alterations later to accommodate the changing requirements of their business. The modules, tools, software and material handling systems on show at Sign and Digital UK were just a taster of the options available and of the future-proofed nature of Zünd technology."
A team from Zünd UK Ltd will also be joining their colleagues from Zünd's HQ in Switzerland at the FESPA Global Print Expo next month (Berlin, Germany, May 15th to 18th 2018). For more information about any of the Zünd systems on show at Sign and Digital UK or FESPA, please email [email protected] or call 01727 833003.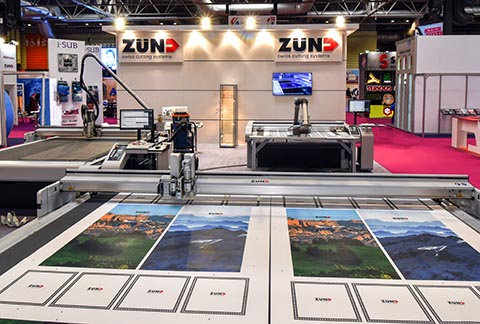 Zünd UK Ltd demonstrated four cutting tables at Sign and Digital UK 2018.