Addressing the latest technologies in print, Manroland's Spring Open House 2018 was held at Manroland Sheetfed's modern Print Technology Center located at its Headquarters in Offenbach am Main, Germany on April 12 to 13.
As the part of Manroland regional program, more than 80 guests from Poland, Czech Republic and Slovakia took part in the day's events, which included both a commercial print and folding cartons session.
Guests at the Open House were acquainted with the technology driving the ROLAND 700 EVOLUTION and the newly-launched ROLAND 700 EVOLUTION Ultima®. This press model is very popular with Manroland customers in Eastern Europe..
Technical experts at Manroland Sheetfed gave live demonstrations of the ROLAND 708 P EVOLUTION equipped with DirectDrive, InlineColorPilot and LED-UV, as well as the ROLAND 706 LV EVOLUTION equipped with Simultaneous Plate Loading (SPL).
Visitors discovered how print quality can be improved on coated and uncoated substrates by using LED-UV technology; how simultaneous make-ready processes significantly reduce make ready times; how an 'OK' sheet can be achieved in less than 120 sheets (a printed sheet representing final inking adjustments approved before production run begins); and how the print queue can be speeded up with the latest QuickChange Job Plus system.
Manroland Sheetfed also introduced the ROLAND 700 EVOLUTION Ultima® OnePass® solution together with tool-less coating form change with Coating PPL; a new function for the Direct-Drive - DirectAccess and CGS Multi Channel wide-gamut (RGB color space to store a wide range of colors) in the folding carton session. Practical advice was also offered to the attendees according to their specific challenges and needs in a real-time production environment.
"The seminar has been a real eye-opener" stated on the Polish guests "Today we have experienced and witnessed the world's most advanced printing technology by using "real" applications!"
Rafael Penuela, CEO of Manroland Sheetfed, was highly appreciative of the positive feedback and support from the visitors. "We are so glad to see our customers and share our knowledge and experience with them," he said. "It is always our priority to take good care of our customers' needs. In the future, we hope to hold more of these regional focused events".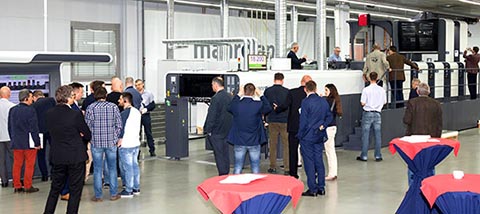 Live print demonstration at the Manroland Sheetfed PTC.