London Book Fair UK/Dubai, UAE – Jamalon, the Middle East region's largest online book store with a catalogue of over 10 million titles, has just announced a strategic partnership with Taopix, the leading UK based global photobook software provider, to offer express personalized photo albums service from the UAE to the Middle East.
The creative solution will allow Jamalon's customers to build and produce personalized photo albums using Taopix's easy and intuitive bookmaking software – Taopix Photobook Designer. Customers will be able to create handmade photo books using the ready-made book templates which consist of creative designs for various themes and occasions. From wedding books, engagement albums, books of trips and one full of family pictures, to personal portfolios and corporate books, the customized photo albums come in variety of sizes and are produced in superior bookstore-quality print and professional binding.
The easy to use solution will allow customers to leverage their existing social media accounts, such as Facebook and Instagram, to create and build their own timeless photo albums, allowing them to capture and freeze their special memories in a high-quality format.
Ala' Alsallal, Jamalon's Founder and CEO, says: "Using our advanced, Dubai-based, Print On Demand facility, Jamalon will be able to immediately manufacture and dispatch the custom built photo albums to our customers across the Middle East. This is only the start of our partnership with Taopix, as we plan to enable our users to also customize other gift items in the near future. Having assessed a number of solutions, we chose Taopix because it is the most powerful and flexible solution in terms of product variety and control and certainly provides the easiest experience for our customers, essential for maximizing conversions."
James Gray, Taopix's Founder and CEO, added: "The Middle East customized photobooks industry is still in it's infancy, and we see our exciting partnership with Jamalon as a key way of enabling the region's customers to have local and direct access to this creative solution."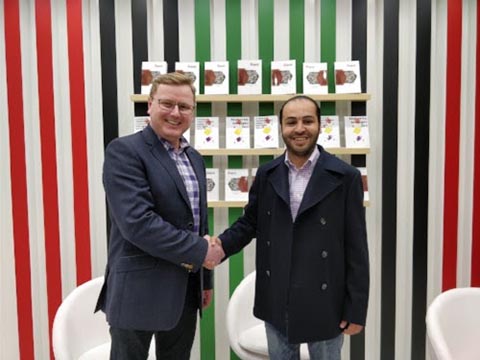 James Gray, CEO of Taopix and Ala' Alsallal, - CEO of Jamalon.