St Albans – A team from Zünd UK Ltd will be joining its European colleagues at the forthcoming FESPA Global Print Expo, guiding visitors through Zünd's latest cutting technology innovations on Hall 1.2 Stand B50.
From May 15th to 18th 2018, Messe Berlin in Germany will host Europe's largest exhibition for the wide-format print industry. Zünd will be among the key exhibitors on the 600-strong schedule, with 18,000 delegates from across the print industry expected to attend the four-day event.
Matthew Tillett, Sales Manager of Zünd UK Ltd, comments: "FESPA's events are always attended by professionals from across the globe so our team from here in St Albans will heading to Berlin this May to welcome visitors from the UK and elsewhere, giving expert insights and advice relevant to their local market.
"The Zünd stand will be packed with the newest Swiss-engineered technology to make sign and display workflows incredibly efficient. We'll be demonstrating this on a variety of materials and applications."
The stand will include a showcase of the Zünd G3 3XL-3200 digital flatbed cutting system fitted with the LM 100W Cut and Seal Laser Module. Perfect for digitally printed textiles – a growing market – this incredible system cuts and seals the edges of fabric in a single fast and safe step, on rolls of fabric up to 3.2m wide.
Also at Hall 1.2, Stand B50 will be Zünd's newest cutting table design, the Zünd D3. Featuring two independently operating beams and up to three different tools, the D3 can potentially double production. At FESPA it will be fitted with the Board Handling System (BHS) to demonstrate an integrated production line running large-format rigid substrates such as corrugated board and carton.
Visitors will also be able to see the RM-L router spindle deliver up to 3.6kW of routing power on hard sign-making materials including wood and acrylics, combined with the automatic router bit changer (ARC) for outstanding unattended production.
Furthermore, the latest version of Zünd Cut Center (ZCC) software will be paired with the new Over Cutter Camera (OCC) at the Berlin event. Positioned over the cutting bed, the OCC captures all visible register marks on the substrate in one shot, while the ZCC software adjusts for stretch, distortion or position to make the cutting process exceptionally efficient in both time and materials. The dashboard is accessible remotely, making it even easier for operators to leave the system to work unattended.
"The Zünd innovations on display really are exciting and, thanks to the modular construction of Zünd systems, can be configured to meet the needs of every market represented at the FESPA Global Print Expo," says Matthew Tillett. "We're looking forward to meeting as many visitors as possible and giving full demonstrations of these brilliant machines."
FESPA Global Print Expo will be held at the Messe Berlin, Germany from May 15th to 18th 2018. To book a meeting with Zünd UK Ltd at Hall 1.2 Stand B50, or for further information on Zünd cutting systems, please email [email protected] or call 01727 833003.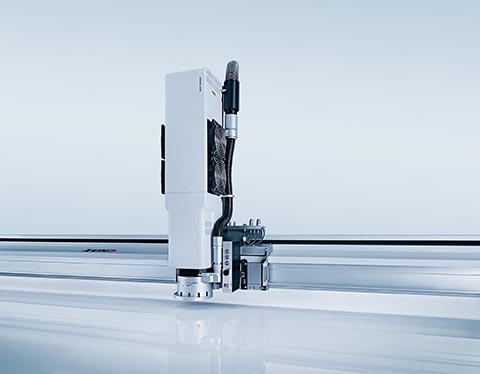 Zünd will again be an exhibitor at FESPA, demonstrating new technology like the LM 100W Cut and Seal Laser Module.