Harrison, N.Y. – At the annual Printing Industry of the Carolinas (PICA) awards banquet on March 25, 2018, the Case Paper Award for Best Brochure or Broadside was awarded to Salem One for their Window World brochure.
Judged to be the best of this year's 24 entries in the brochure/broadsides category, and one of more than 580 entries from 44 printing companies as well as educational arts programs from across the Carolinas, the brochure was judged on, among other criteria, excellence in registration; clarity and neatness; halftone sharpness; paper and ink selection and coverage; difficulty of printing, finishing, bindery; and overall visual impact.
"I was thrilled to present the Case Paper Award this year to Salem One of Winston-Salem, NC," says Case Paper Sales Manager, George Thornton. "Representing some of the best printing in the region, this brochure is a fantastic example of printing excellence and those involved in its printing should feel quite proud."
The PICA awards honor the best printing of catalogs, brochures, booklets, posters, annual reports, and collateral materials in North or South Carolina. Case Paper has provided this special award for many years.
For more info about the annual PICA awards, visit picanet.org. For more info about Case Paper Co., visit casepaper.com.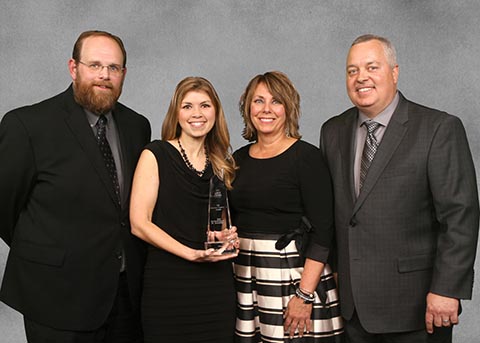 George Thornton, Sales Manager (left) and Yvonne Blessing, Sales Rep at Case Paper (center right), presented PICA's 2018 Best Brochure or Broadside Award to Jennifer Ingram (center left) and Joe Conley (right) of Salem One, for excellence in brochure printing.