Return on Investment realized "within the first couple of months"
Ottawa, Canada – The Bernard Group of Chanhassen, Minn., has achieved "painless" growth and unprecedented ROI thanks to tilia Phoenix planning and imposition software from Tilia Labs, a leading developer of planning, imposition, and automation solutions for the graphic arts industries. The installation has facilitated fast, efficient production across a diverse range of print and finishing platforms, according to The Bernard Group.
Specializing in non-standard formats and custom projects for fashion and retail clients as well as for 30,000+ active customers via its web-to-print facility smartpress.com, The Bernard Group needed a solution to manage its increasingly complicated and time-consuming job imposition.
"At The Bernard Group we don't do anything templated. We give designers the freedom to print any shape or format they want," says Diego Diaz, Solutions Architect for Workflow and Print Systems with the Bernard Group. "Most imposition systems are entirely template based. We needed something that we could script and continue to scale up as we went along.
"As soon as we spoke to Tilia, we realized they knew their stuff. They knew how to design and how to program," Diaz continues. "More importantly, their willingness to listen, learn and develop the system in line with our needs far surpassed anything we had experienced before. They truly embraced stepping out of the box with us..
Developed to address precisely the issues faced by companies such as the Bernard Group, tilia Phoenix is a sophisticated planning and imposition application for packaging, labels, commercial, and wide format, it was built from the ground up to improve production efficiencies. This is accomplished through fully automating the creation of effective, print-ready impositions across potentially millions of possibilities, enabling fast accurate estimates, reducing pre-press time, maximizing media usage, and reducing post-press complexity.
Phoenix Imposition AI takes an entirely different approach to most common imposition solutions. Rather than being template-driven, it operates according to machine and production requirements to generate print-ready layouts on-the-fly. The Bernard Group is able to leverage this flexibility to build "flows" within its Enfocus Switch workflow system that dynamically adapt to the work coming in and greatly reduce overall workflow complexity.
The system has enabled The Bernard Group to get rid of pre-imposing for production across its entire range of small- and large-format print and finishing. Changes made to artwork files outside of Phoenix are automatically detected and updated, and even unanticipated changes in production capacity are easily accommodated: "If we have to take a press offline for any reason, we just spring the job ticket over to a different press and the necessary adjustments are automatically made to the imposition plan," says Diaz. "Phoenix is genuinely cross-platform. It does what it does really, really well for large format and small format, on HP Indigo, Fuji J-Press, Vutek, and on all our presses and finishing equipment."
Optimized for both irregular shapes and square-cut work, Phoenix analyzes jobs and automatically gangs according to content, color profiles and "intent". The Bernard Group is now ganging in the region of 30 percent of jobs, increasing efficiency and cost-effectiveness and the overall production capacity of equipment. Phoenix's advanced shape nesting has also been of noticeable benefit, according to Diaz. Printing millions of custom pieces and unique cutouts, often on very expensive substrates – for stickers or signage, for example – Phoenix's ability to tightly nest the shapes dynamically, even for superwide roll-fed printers and cutters, boosts both cost-effectiveness and sustainability.
The Bernard Group currently employs more than 650 people across three divisions and has a turnover of $150 million. Since it was established in the late 1990s, the company has maintained annual growth averaging 35 percent. "Phoenix has enabled us to continue to grow at our current rate without taking on new people and this has contributed to a very rapid return - probably within the first couple of months," says Diaz. "When we first came across Tilia Labs our small-format division employed 120 people and we had six full-time people working shifts to supply imposition for our round-the-clock production output. All six have now been reassigned new, more fulfilling roles that better utilize their advanced skill sets …And the fact that our customers didn't notice a thing when we changed over has to be one of the best endorsements the product could have."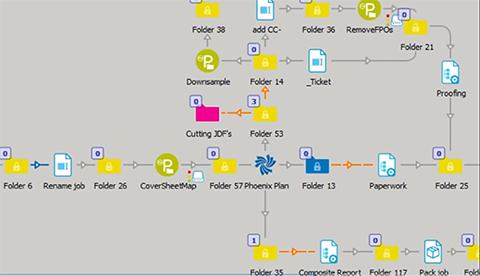 The Bernard Group of Chanhassen, Minnesota, has achieved "painless" growth and unprecedented ROI thanks to tilia Phoenix planning and imposition software from Tilia Labs.