Cohoes, N.Y. – Since 1998, Mohawk has led the market with innovative substrates for digital printing. Starting with legendary fine paper and carefully expanding into specialized non-paper substrates, Mohawk is celebrating 20 years of product innovation.
At this year's DSCOOP gathering in Dallas, Mohawk will introduce a number of new products engineered for HP Indigo as well as wide format printing. Mike Madura, VP of Product Management and Development says, "We wanted to arrive at DSCOOP ready to demonstrate these new paper and specialty materials in a manner that would echo the conference focus on Inspiration. Anyone who knows us knows that we are always looking for new ways to inspire designers and printers with the power of materials through provocative demonstration."
Be sure to stop by Booth #26 at this year's conference to see these important new products and print demonstrations:
Mohawk Maker Quarterly #13 – Embracing the topic of disruption, Issue #13 of this celebrated publication features 20,000 one of a kind art prints, which were created using HP Mosaic and printed on Mohawk Superfine with an HP Indigo 12000 Press. Every print is numbered, unique and shows the impact of HP Indigo print on beautiful paper.
Mohawk's new i-Tone-On-Demand Program – This new offering opens up a wide world of print possibilities by giving designers and printers the ability to choose the full range of Mohawk colors, textures and specialty materials for as little as a single carton. All optimized with Mohawk's proprietary i-Tone surface treatment for impeccable performance on the range of HP Indigo presses.
PaperTyger® Line Expansion – Building on our successful launch of these category-defining durable papers, Mohawk will show a bold new range of items in both sheets for HP Indigo as well as rolls for wide format. PaperTyger® offers the looks and feel of paper with unexpected durability and strength.
The New Mohawk Specialty Digital Materials Swatchbook – Carefully designed to work with Mohawk's family of fine paper swatchbooks, this new tool is sure to become the go-to resource for designers and printers when they need to select best-in-class specialty materials for any project or press.
These new products are a clear expression of Mohawk's long-standing commitment to offering the creative and print community to finest materials for all the ways you print.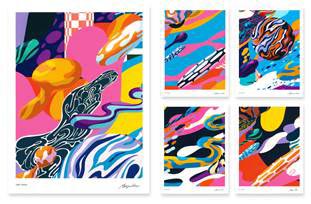 Embracing the topic of disruption, Issue #13 of the Mohawk Maker Quarterly features 20,000 one of a kind art prints, which were created using HP Mosaic.