Ludhiana-based Foil Printers recently installed a four-colour Komori Enthrone printing press. Foil Printers are known for commercial printing and famous for quality in this part of the country. They already have battery of pre-owned machines like 5 colour Heidelberg MOVHF, two colour Adast and Heidelberg SORDZ besides Digital machines from Ricoh and Konica Minolta.
Speaking about opting for brand new Komori, Mr. Sudhir Chopra said the new machine is essential to meet the demand for quality for which Foil is known. We are the only printer of the area to get the Excellence award from the President of India and to maintain that brand we opted for Komori. "The Komori Enthrone meets most of our demands within our investment limits," he said.
Mr. Dalip Chopra brother of Sudhir, who is responsible for production immediately added that new machine is particularly required to meet the demand for quality production and fast turnaround. The Komori Enthrone 429 has a double dia impression and transfer cylinder as compared to other popular German printing presses in its segment and it was one of reasons why we opted Komori, Mr. Dalip said. "We are printing around 20 sets of jobs per day and average run of job is 1,500 sheets per job," he added. And our target is to go up three times.
Just to streamline the production, the company also invested in a CTCP from Mumbai-based Nippon Color. "The plate processing equipment was essential to feed the new printing press, we needed a CTCP in-house," Chopras said. Since the CTP plates are expensive for the city like Ludhiana it is therefore we went for CTCP just to compete in the local market. Presently we are consuming about 125 printing plates per day but with the installation of Komori it is estimated that the consumption may increase to 200 or more, Sudhir elaborated.
Foil produces visiting cards, letterhead, envelopes, brochures, notepads, mailers, leaflets, invitation cards, scratch cards, bookmarks, stickers, media packs, presentation folders, carry bags, calendars, marketing cards, promotional cards, menu cards, booklets, promotion materials, posters, variable, data printing, exhibition stands, display kits besides books and other stationery items.
Established in 1970 by Prof. Kamal Chopra father of Sudhir and Dalip, the print firm runs in a 12-hour shift. Around 50 people work in 1600 sq/m print production facility. Today both the brothers are taking care of the company under the guidance of Prof. Chopra.
Ludhiana is an industrial city of northern part of India and home of industries barons like Sunil Bharti Mittal of Airtel, Anand Mahindra of Mahindra & Mahindra, and the Munjal family of Hero Group, among others. It is known as the packaging town because more than 95 per cent of 750 printers of the city are packaging printers and there are around 70 printers in the city who have at least one four-colour press.
Enthrone is the most popular press from Komori's product portfolio. Insight, Komori's India representative, has installed 130 Enthrone printing presses in India. The total number of Komori installation in India in the last 10 years is 335.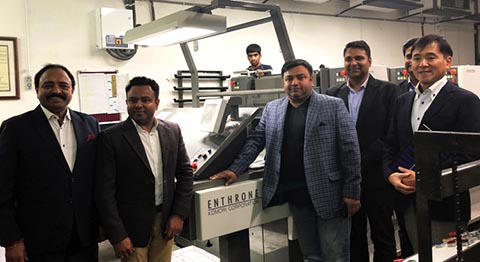 From L to R Owner of Foil Printers Prof. Kamal Chopra with his sons Mr. Sudhir Chopra and Mr. Dalip Chopra.