Quimica Anders will offer ongoing support and next-generation technology to wider market

Manchester, UK – JM Heaford, industry-leading supplier of proofing and mounting solutions for the labels, flexible packaging, corrugated and decorative markets, has appointed a new agent for Ecuador. Quimica Anders Cia Ltda., which has already been representing JM Heaford in Peru since 2004, has now taken over responsibility for sales and support of Heaford mounters and proofers for the Ecuadorian flexible packaging, narrow web and corrugated industries.
With sales of Heaford mounters and proofers into Ecuador dating back to 1994, JM Heaford currently has more than 20 installed models and is widely recognized as the market leader, according to Nick Vindel, Latin American Sales Manager with JM Heaford. This appointment, he says, comes at a crucial time in terms of local industry trends and Heaford's own strategic product development:
"We have been working very successfully with Quimica Anders in the Peruvian market for many years, increasing our market share and sales, and we feel that they are the right company to drive sales forward in this growing market," explains Vindel. "Quimica Anders has a very progressive and proactive technical sales department, headed by Alexander Piedra, which has the knowledge and expertise to support customers, both in their day-to-day needs and for the longer term in helping them improve the efficiency of their mounting operations and workflow with our equipment. Alexander has been active for more than 14 years in the market and is well known and respected by all, not only among the converters who already have Heaford equipment, but also in the flexible packaging and label markets where we aim to grow our sales."
Quimica Anders Ecuador was established in 2004 and today is certified to ISO 9001 – 2015, serving eight market segments in the country. At its headquarters in the capital Quito and regional office in Guayaquil the company maintains a demonstration suite of latest of products from its growing client portfolio, including Macdermid Graphics Solutions, MDC Daetwyler, Lohmann, Apex, Trelleborg, Recyl, AVT, DOW, AFS and Flexo Wash.
According to Piedra, Ecuador is currently experiencing a period of growth among converters across all market segments: "This is an opportunity to take customers to the next level with Heaford technology. It allows us to offer the combined advantages of first-time accuracy, faster turnaround and job throughput and, thus, greater production capacity.
"Initial feedback from the installed base in Ecuador has been extremely encouraging," continues Piedra. "The existing Heaford users have only positive things to say about their experience. For example: 'Heaford is synonymous with reliability and quality' – that's what we were told by the general manager and founder of NeyPlex CA in Quito. You can't get better than that – it promises great things to come in Ecuador."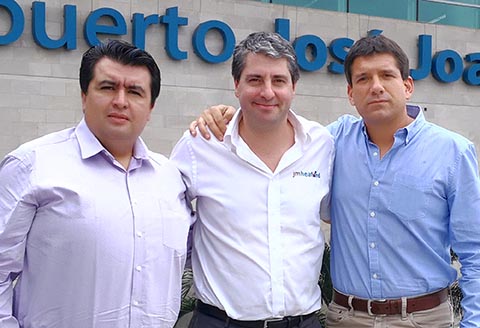 Left to right: Alexander Piedra – Technical Sales Quimica Anders Ecuador; Nick Vindel, JM Heaford Latin America Sales Manager; Horst Eichhorn, Regional Business Unit Sales Manager Quimica Anders.