Weymouth, Mass. – InfoTrends, a division of Keypoint Intelligence, is pleased to release a new research study entitled Looking for BIG Opportunity in Graphic Communications & Specialty Printing. This study identifies key trends, investments, opportunities, and best practices of firms that offer sign, display, and specialty graphics.
Over 300 respondents across five types of organizations, including commercial printers, digital print shops, screen printers, sign shops, and ad specialty providers participated in our online survey. To qualify for the survey, respondents' organizations needed to generate revenue related to sign, display, and specialty graphics.
One major trend identified in the research is that wide format is a growth market. The share of surveyed firms reporting wide format volume increases outnumbered those reporting decreases by 17 to 1. In addition, nearly half of respondents (48%) plan to purchase a new wide format device in the next 2 years.
Wide Format Production Volume is Increasing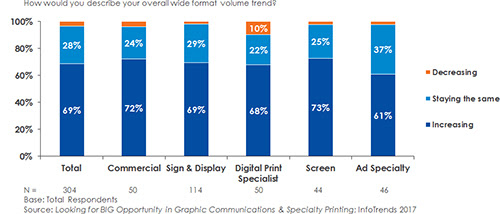 This comprehensive research study covers many key areas and offers important insights to vendors, suppliers, and producers of sign, display, and specialty products. Core areas of study coverage include:
Application, Purchasing, Demand, and Profitability Trends
Providers' Marketing & Operational Priorities, Challenges, and Trends
Equipment Ownership and Investment Trends
Volume & Application Trends by Wide Format Technology
Media Usage Trends
Wide Format Workflow Trends
To learn more about this study and its key findings, please join Lisa Cross for a short prerecorded InfoCast or refer to our online brochure.
To purchase the study, please contact [email protected].