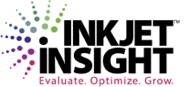 InkjetInsight.com, a new website launched today, provides valuable tools and resources to help companies objectively evaluate the potential of inkjet for their businesses, optimize their operations and grow their businesses using production inkjet solutions. Inkjet Insight combines the resources, creativity and brainpower of Insight Forums, Schilling Inkjet Consulting and WhatTheyThink to take a deep dive into the world of production inkjet.
"OEMs and mills are spending over a billion dollars per year on R&D related to production inkjet technology," said Elizabeth Gooding, co-founder of Inkjet Insight. "Every year there are more devices and more options available for each device. Our goal is to make it less challenging for buyers to find the right tool for the job and then get the most out of it."
InkjetInsight.com features include:
• Paper Finder, an easy-to-use application that quickly identifies papers suitable for a particular inkjet environment using search criteria to narrow the field to those that are a best fit.
• RFP Checklists, including expert analysis and downloadable planning tools to help guide the equipment and paper evaluation process.
• Customer Education Tools that streamline marketing and business development efforts, including customizable templates to demonstrate inkjet production capabilities to buyers and designers.
• Knowledge Base, a growing collection of inkjet intelligence describing key performance factors of different types of inkjet devices, paper and finishing equipment and how they work together.
Marco Boer, Vice-President of I.T. Strategies, Inc., stated, "InkjetInsight.com removes much of the time-consuming trial and error of predicting output quality on production inkjet printers through identifying paper compatibility, color management considerations, and providing easy access to both community and professional help."
Later this quarter, Inkjet Insight will add Device Finder and Finishing Finder to the line-up, helping printing organizations to evaluate more solutions in less time while ensuring that all key factors are considered.
"We would like to acknowledge the support of our charter sponsors, Canon Solutions America, HP and Ricoh" said Adam Dewitz, co-founder of Inkjet Insight. "They had the vision to see the value of Inkjet Insight to the industry and supported our efforts even before we launched."
About Inkjet Insight
Inkjet Insight is dedicated to becoming the most valuable source of unbiased information for companies evaluating and using production inkjet. Content will be updated on an ongoing basis to stay current with a rapidly evolving marketplace. For more information visit https://inkjetinsight.com.
Find us on LinkedIn: https://www.linkedin.com/organization/16238271
Follow us on Twitter: @inkjetinsight