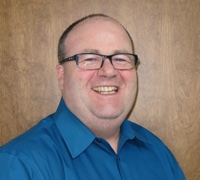 Elmwood Park, NJ – Tom Molamphy has joined Agfa Graphics North America as Business Development Manager for the company's Industrial Inkjet Ink Division. In this role, Molamphy will focus on generating new business relationships in the United States and Canada for the fast growing industrial inks operation.
Agfa Graphics, a leading provider of UV ink for industrial piezo printheads, is leveraging its experience and chemical knowledge to integrate inkjet ink printing into a wide range of industrial manufacturing. Molamphy will work closely with suppliers of inkjet print engines as well as integrators of industrial inkjet applications such as décor, labels, coding and marking.
"We are pleased to welcome Tom to the Agfa Graphics team. His technical experience in the UV curing industry will directly contribute to the success of our Industrial Inkjet Ink group," said Deborah Hutcheson, Director of Marketing, Agfa Graphics North America.
Before joining Agfa Graphics, Molamphy served as Principal of Nuasell, a technical sales and marketing consultancy. He also served in sales and marketing roles with Phoseon, a leader in UV LED curing technology.