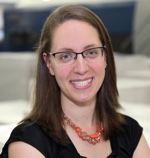 ROCHESTER, NY - Flower City Printing has named Theresa Clemons General Manager, effective as of August 2016.
As General Manager, Clemons will oversee all manufacturing operations at Flower City Printing's Rochester facilities. In her new position, Clemons will focus on creating new efficiencies and continuing the company's culture of producing top-quality to guarantee a superior customer experience.
"Theresa is a vital asset to our company. We are excited to have her in this well-deserved position," says Flower City Printing CEO, George Scharr. "In her new role, her guidance will allow us to continue to better serve our customers and ensure our work is top notch."
Clemons joined Flower City Printing in September 2014 as a Senior Quality Analyst, and was named Manager of Quality and Safety in December 2015. She came to Flower City Printing from Cameron Compression Systems in Buffalo, NY, where she was an Industrial Engineer for seven years, working on process improvements in the manufacturing area. Clemons earned Bachelor's and Master's degrees in Industrial Engineering at the University of Buffalo.