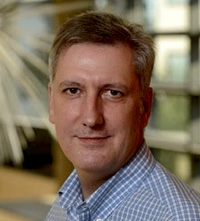 Schaumburg, IL – Peter Lockley, a highly experienced and successful executive on the international level, is the new President of INX Europe. He will oversee the operations of the INX Group companies in the Czech Republic, France, Italy, and the UK.
Mr. Lockley most recently served as Senior VP, Bevcan Europe and the Middle East, at Crown Packaging Europe GmbH, the final building block of a 29-year run at the company that began with Metal Box, England in 1987. With P&L responsibility for Crown's beverage can business, he generated significant improvement to the company's Europe and MENA business performance and opened a new, $50 million manufacturing facility in Turkey. During his tenure, he also held key industry positions as Chairman of Metal Packaging Europe and Chairman of Beverage Can Makers Europe.
Mr. Lockley will direct efforts from the INX UK facility in Heywood, England and report to Rick Clendenning, the President and CEO of INX International Ink Co., who will maintain contact with overseas customers and continue to support Peter and the European operations of INX. A foursome of European Managing Directors, including Avi Bukai, Antoine de Lebeau, Peter Tresadern and Marco Zanella, will report directly to Mr. Lockley along with the European Financial Director, Nicolas Sagalow.
"Peter brings extensive experience in business development and management from the many years he served on the executive level at Crown Packaging," reflected Rick Clendenning. "His impressive resume boasts many important accomplishments during his time at Crown, including significant contributions to growth in the European, Middle East and African (EMEA) markets. Peter has a earned a great reputation, he is well respected in our industry, and with him at the helm, INX Europe presents great opportunities for further developing INX globally."
"I enjoyed my time at Crown but I was looking for another challenge and I found it with INX Europe," indicated Mr. Lockley. "My familiarity with the EMEA region will help us right from the start. INX has a strong presence in the European market, and I'm looking forward to achieving our ambitious goals for growth and expansion in the future."