Editor's Note: See an exclusive video with HP's General Manager of Large Format Xavier Garcia
DÜSSELDORF, Germany - Today at drupa 2016, HP announced that Smurfit Kappa, a world leader in paper-based packaging solutions with over 100 converting plants in Europe, has entered into a strategic collaboration agreement with HP to further develop the recently announced digital corrugated post-print solution, the HP PageWide C500 Press.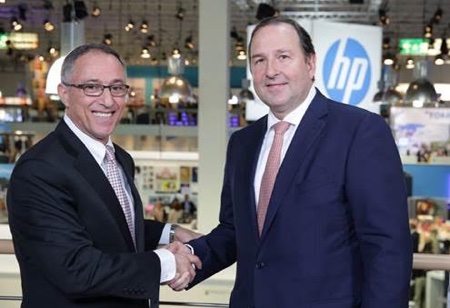 "Smurfit Kappa is dedicated to delivering customer growth through innovation. While our current digital printing solutions enable us to offer our customers fast time to market and shorter runs, we required a more robust and economical solution to scale our digital printing capabilities," said Roberto Villaquiran, CEO Smurfit Kappa Europe. "After a thorough analysis, we determined the HP PageWide C500 Press is the most compelling digital end-to-end solution for corrugated post-print, and HP is the right vendor with the right commitment to innovation in this space to help us reinforce our leadership. This partnership will help us continue innovating and grow together."
Reinventing corrugated production with digital post-print
Poised to become a digital powerhouse, Smurfit Kappa will collaborate with HP to revolutionize the way high-value boxes are produced. With the HP PageWide C500 Press, Smurfit Kappa will be able to print direct-to-board with quality to substitute lithography, deliver faster turnarounds with just-in-time production and acquire new customers by leveraging on-demand services and unmatched production flexibility. The company will work closely with HP to develop the new press, providing unique production insights into the specific requirements for corrugated post-printing, and plans to roll out the new solution in its European plants.
"Smurfit Kappa was looking for a proven technology provider with an economical solution and a long-term vision to address traditional production challenges and limitations," said Mike Salfity, general manager and global head, HP Graphics Solutions Business, HP Inc. "The company placed its confidence in HP, securing an early-adopter advantage and HP has now gained a mentor to perfect the HP PageWide C500 Press and continue the digital transformation in the corrugated packaging market."
Digital direct corrugated printing with undisputed economics
Leveraging 30 years of HP Thermal Inkjet innovation and powered by proven HP PageWide Printing Technology, the HP PageWide C500 Press offers a flexible and robust industrial post-print corrugated solution that delivers high-impact, offset-quality graphics direct-to-board, enabling customers to affordably adopt digital technology and reinvent a segment ripe with opportunity.
The new press is designed to seamlessly integrate into any production environment, from large integrated converters with centralized and distributed printing, to small, independent converters. The press also features the proven HP Corrugated Grip Technology, helping customers expand media versatility and enhance production flexibility with the ability to handle a wider range of media from the lightest micro-flute to the heaviest double wall board.
Additionally, new water-based HP inks are designed for printing on the non-contact surface of paperboard packaging, complying with global food safety regulations and industry guidelines,(1) enabling customers to achieve food-compliant packaging required to support packaging campaigns for leading food brands.
The HP PageWide C500 Press joins HP's growing portfolio of digital packaging solutions from thin films to cartons and corrugated, all providing converters with new opportunities to increase productivity and profitability while satisfying dynamic brand requirements.
HP is planning to start testing the HP PageWide C500 Press at customer sites in 2017, and the press is expected to be commercially available in 2018.(2)
(1) The ink is intended to comply with the following US & European regulations and industry guidance: US FDA 21CFR parts 170-199, EU Framework Reg'n 1935/2004/EC, Article 26(i) of the Swiss Ordinance 817.023.21, EuPIA Guideline on Printing Inks 2011 (& EuPIA Guidance 3rd Revised Version for GMP), Nestle guidelines (2014), EN 1230. The customer is responsible for determining food packaging compliance of the final packaging article; HP can provide information about relevant OPV candidates to assist in that determination.
(2) Availability is subject to change and may vary by region.