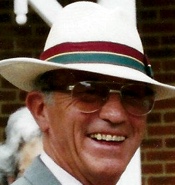 The death of Jimmy Marr, at the age of 76, has just been announced. Jimmy was Managing Director of Contract Papers until his retirement in 1998.
Contract Papers was formed in London by Christian van Hoorn in 1969. At the time Jimmy worked as a printer at St Clements Fosh and Cross, city printers. He was employed as Sales Director of Contract Papers in 1970. Jimmy was appointed Managing Director of Contract Papers in 1982. After a series of acquisitions and mergers, including the purchase of Howard Smith Paper in 1982, Contract Papers subsequently became part of the Howard Smith Paper Group along with Howard Smith Paper and Savory Paper. Jimmy and his team grew the business considerably prior to him retiring in 1998.
Martyn Eustace, Managing Director of Two Sides and Print Power, and a former colleague of Jimmy's, said, 'I joined Contract Papers in the early 1980's and Jimmy, very much a legend in the world of paper and magazine publishing, became a steadfast colleague and friend. Together with Robert Savory and George Dean, Jimmy formed part of a management team of the renamed Howard Smith Paper Group which moved operations to Northampton in 1989 and entered an unrivalled period of growth. Jimmy's gruff, cigar nurtured voice always made good common sense and his support for me and others was unfailing. In an industry once teaming with characters he stood shoulder to shoulder with them. He was not a corporate man and gave cursory attention to corporate double-speak. He was his own man and valued for that; trusted by colleagues, suppliers and customers alike. Thanks Jim for a great time.'
The funeral will take place on Friday 12 December at 2.00pm at St. John's Church, Canons Hill, Old Coulsdon, Surrey CR5 1HA.
Donations can be made to www.prostatecanceruk.org, Flowers can be sent to Rowland Brothers, The Parade, Old Coulsdon, Surrey CR5 1EH