Flexible and board applications demonstrated to packaging professionals
Quick job changes and inline capabilities highlight Vpak speed and versatility
Following weeks of closed testing sessions and private demonstrations since it was launched in April this year, the Goss Packaging Technology Center recently held its first "open" demonstration week in Durham, New Hampshire.
More than 40 prospects representing a range of packaging facilities across the US and Canada, from small independents to multi-plant operations, made the trip to see live demonstrations of the Sunday Vpak web offset press and explore new opportunities in packaging print production.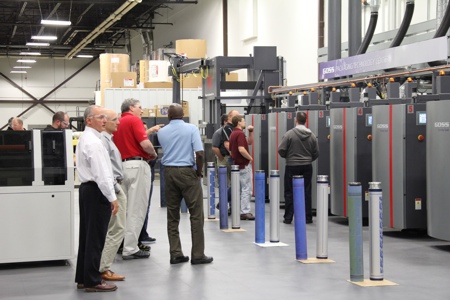 During a series of morning and afternoon programs spread over the course of four days in October, visitors observed the Vpak 500 model running both 76-micron OPP film and 8-point SBS paper board and employing a variety of additional inline capabilities, including high-gloss flexo coatings and EB curing. The Goss team on-site also demonstrated the unique advantages of the Sunday Vpak quick-change sleeve technology which allows for very fast, reliable and economical job changes.
Peter Walczak, director of product management for packaging, noted, "The event was hugely positive and beneficial, both for Goss and all our technology partners, as well for our guests. The feedback at the time was fantastic, but comments and enquiries since suggest there could be some interesting developments to come."
According to Walczak, the event was even attended by some early contributors to the Vpak development: "We had a couple of visitors who were involved in discussions when the technology was at an early engineering stage. They were really pleased to see the machine performing so well and to know that their input had contributed to an industry gamechanger."
"Open houses and demonstrations are key to helping us as a business showcase how our products are addressing market requirements," concludes Walczak. "The Packaging Technology Center provides converters and brand owners the chance to generate and test new concepts for improved packaging printing first-hand."
In addition to the ongoing schedule of trials and demonstrations, Goss is now planning a series of events at the Packaging Technology Center focused on specific educational topics. Color management and ink curing will be among the first themes to be tackled in these sessions, with input from Goss partners and consumables suppliers. More information is available by [email protected]