Reprographics and Large format print specialist Callprint has announced the recruitment of a new Retail and Commercial Team from rival Icon, who will join its Jupiter Visual Communications team and bring with them a turnover value of £4m+.
The new team at Jupiter consists of experienced high-level sales and project management personnel.
The four key members who will join the Jupiter Visual Communications team, include; Brian Judge, former Sales Director for many years at C3 and more recently at McKenzie Clark, who joins as Business Director. Mark Haines, formerly Key Account Director at Jupiter, who joined Icon three years ago, and also joins the Jupiter team as Business Director. Alex Davenport was at Jupiter for 10 years and joins the new team along with former Icon Head of Projects Scott Grant.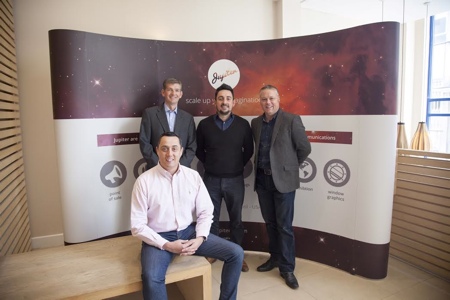 The estimated turnover value of the new Retail and Commercial team being assembled at Jupiter is £4m+, with all the new recruits being added to strengthen and help grow the Jupiter Visual Communications business further.
The addition of Jupiter Visual Communications, which will become a standalone part of the Callprint business, will offer Callprint's client's a specialist service option, focussing on the large scale management of projects in the live events, retail, property, and sports sectors, where there are obvious synergies with Callprint's existing operations and client base.
Commenting on the new personnel, Callprint Director and investor, Ben Moss, who worked with all of the recruits at his former businesses, stated, "I am delighted to have added this experienced team to help strengthen and grow the Jupiter business."
Ben added, "We are going to continue to strengthen the Jupiter team as we are on a fast-track growth programme with the business."