Las Vegas, NV - For the seventh time, Visual Magnetics has been honored at the SGIA Expo. The world leader in magnetic receptive print media won a prestigious award for their newly released media, VM-CHALKboard PLUS™, which competed in the 'Digital Inkjet Media - Films' category.
"We are so proud that our offerings continue to be the leading standard in large-format magnetic receptive media worldwide," says Joe Deetz, CEO and President of Visual Magnetics. "VM-CHALKboard PLUS will revolutionize chalkboard applications for grocery, café and restaurant brands."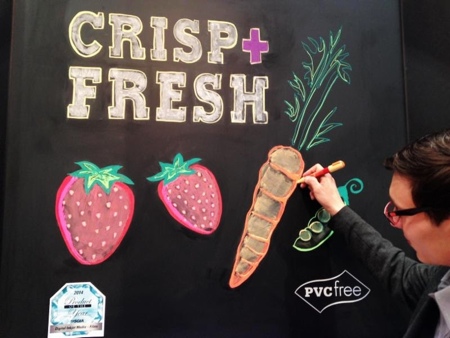 VM-CHALKboard PLUS is a flexible magnetic receptive 15-mil, black, polystyrene film that delivers unmatched results when combining printed elements and liquid chalk art. Easy to install and update, this media offers cost savings to the grocery, café and restaurant industries, where chalkboard elements are in high demand. Store associates can now change the surface of a chalkboard without struggling to take down heavy panels to update artwork. Ideal for dynamic wall or chalkboard fixture applications, VM-CHALKboard PLUS can also be layered with additional magnetic-receptive graphics.
Sixty-eight companies from all over the globe submitted to this competition, entering 139 products in 25 categories. Each product was judged during the 2014 SGIA Expo (Las Vegas, October 22-24) and displayed in the Product of the Year / Golden Image Gallery on the Expo floor.
A recap of the 2014 SGIA Expo - including the complete list of Product of the Year Award winners - is available online at SGIA.org.