LONDON – Canon, the leader in imaging solutions, today announces the Océ ImageStreamTM 3500, the manufacturer's first full-colour press from its Océ inkjet product range that can print on offset coated paper stocks.
Strengthening Canon's position in the publishing and commercial printing markets, this latest development enables Print Service Providers (PSPs) to consistently produce the same high quality output across both offset and digital production lines – removing the need for two different types of paper.
Previously, high-quality inkjet printing has relied on treated paper or special add-ons such as bonding agents or primers to achieve optimum quality. With the Océ ImageStream 3500, which can run to up to 160m/min (525 ft/min) at 1200 x 600 dpi, with flexible droplet modulation for even higher perceived image resolution, PSPs now only require one type of paper stock, giving customers the freedom of choice between technologies, whether it is digital or conventional, depending on job requirements (run length, turnaround time, print window).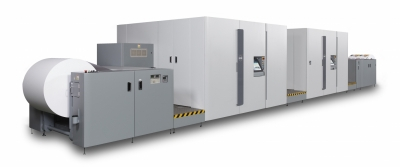 The Océ ImageStream 3500 produces the outstanding image quality required for high-end applications such as books, brochures, magazines and personalised catalogues. The machine's new pigment inks provide finer edge sharpness, less fray and dot gain and increased optical density for a stronger contrast, resulting in razor sharp lines (or letters) and increased colour vibrancy. Furthermore, the perceived colour gamut on low cost standard papers is higher on pigment inks than on dye inks, providing additional production cost savings.
The press also has the most compact footprint in its class, designed to be 10 to 50 per cent smaller than other production systems. As a result, PSPs can enter the digital production arena without a major impact on limited floor space.
The Océ ImageStream 3500 – powered by Océ PRISMA workflow software – also includes the high-performance and scalable Océ SRA® MP controller, offering uninterrupted printing at full engine speed. The embedded Adobe APPE®engine allows the support of a native PDF format which is ripped directly on the printer controller, eliminating the costly and time-consuming intermediate process.
"With the development of the Océ ImageStream 3500, there has never been a more enticing and attractive proposition for commercial printers using offset technology to enter the digital printing market," explains Craig Nethercott, Commercial Print Group Director, Canon UK. "The Océ ImageStream rivals the speed and image quality of offset technologies, such as conventional B2 presses, while harnessing the capabilities of digital printing technology for shorter runs, print-on-demand and variable data for personalisation."
Nethercott continues: "Whether it's an offset printer looking for a viable opportunity to invest in digital printing technology and take advantage of its many benefits, or a digital printer looking to upgrade to optimise costs and boost production efficiencies further, our latest machine can be a catalyst for business growth."
The Océ ImageStream 3500 will be available from the beginning of 2015.