DÜSSELDORF, GERMANY – At Interpack 2014, Sun Chemical will show brand owners how they can make their products stand out on shelf and engage consumers with special effects printing using SunInspire specialty inks and coatings.
Visitors to Sun Chemical's booth located at Stand C10/Hall 7a, will be shown the impact that SunInspire can make to consumers with the use of its SunInspire 2014 Samples Box. Located on the show floor for demonstration purposes, the SunInspire Samples Box features 21 different samples of special effects for all print processes and substrates.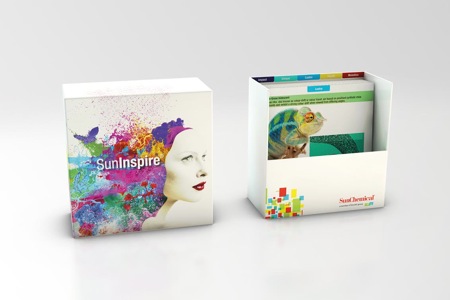 The limited edition box contains two breakthrough technologies: textured inks for metal decoration and printed optics for point of sale displays. It will also feature 10 samples showcasing various metallic effect options. The metallic effect is most commonly used in packaging to communicate premium positioning. It also delivers on demand effects, optimising productivity, cost, and waste, compared to metallised substrates or hot/cold foil stamping.
Michel Vanhems, Sustainability Leader, Brand Owner Program, Sun Chemical said: "Packaging needs to stand out no matter where it is –at the point of purchase or even in the home. Brand owners know that they need to compete for the customer's attention on the shelf at stores and in the consumer's home where there is a strong likelihood that there will be competing brands. SunInspire inks and coatings up the ante in achieving deeper engagement with buyers, and allow designers and brands to bring their ideas to life. We will use our SunInspire 2014 Samples Box to demonstrate this."
Sun Chemical's wide range of SunInspire specialty coatings offer a variety of visual special effects that help packages increase their shelf prominence, including high brilliance metallic silver, gold and polychromatic, fluorescent, pearlescent, iridescent, interference, tactile and relief. SunInspire inks and coatings also present brand owners with realistic, achievable, and cost optimised special effects, which help deal with the challenge of minimising packaging material and conveying more information in a limited space while making it visually appealing.
For more information about Sun Chemical's packaging solutions and services on display at Interpack 2014, please visit www.sunchemical.com/interpack or visit Hall 7a, Stand C10 on May 8-14, 2014 in Düsseldorf, Germany.