Chicago, IL – GPA is proud to announce the winners of their 2013 Print & Design Contest, which is designed to recognize outstanding work by GPA's customers. Companies across the country submit their entries on GPA substrates to compete in six product categories for Best of Category, and from those six, one is chosen as Best of Show.
Solo Printing of Miami, FL won Best of Show in the Ultra Film® Non-Adhesive Films Category for their menus printed on GPA's 16 Mil Ultra Green® Film Tree Free Paper. These menus were for a national Italian restaurant chain, and the application called for durability and the ability to be wiped down since the menus are frequently exposed to food and beverages. Their client considered other materials, but ultimately chose Ultra Green® Film for its tactile "wow" factor and ultra smooth, soft surface. They also liked that it did not require additional coatings or lamination, and the product's sustainability aspect since it is composed partially of rocks, specificaly limestone and calcium carbonate. The only finishing required for this project was trimming, scoring and folding.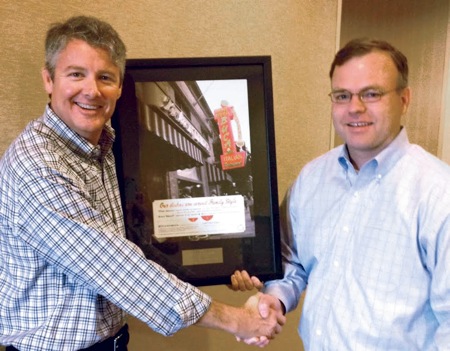 Talmadge Pearson, Territory Sales Manager at GPA (left), presenting the Best of Show award to Patrick Vernon, Account Executive at Solo Printing.
"On behalf of the Solo Printing team, it is a great honor to accept GPA's Best of Show award. We value our partnership with GPA because they help us introduce our clients to a wide range of innovative solutions that our customers love, and this award solidifies the fact that we're creating the kind of work that gets noticed," said Patrick Vernon, Account Executive at Solo Printing.
The Best of Category winners are:
Apple Graphics of Duarte, CA – Ultra Bak® Plus & Ultra Bak® Classic Pressure Sensitive Papers­­­­­­­­­
Ace Commercial of Santa Fe Springs, CA – Ultra Film® Pressure Sensitive Films­ ­
R & R Images/Shutterfly of Phoenix, AZ – Ultra Digital® Papers
Keystone Millbrook Printing of Grand Ledge, MI – Ultra Digital® Synthetic Films
Corporate Graphics of North Mankato, MN – Ultra Digital® Pressure Sensitive Papers
This year's contest was judged by a panel of three industry experts: William Wieners, a pioneer in the digital printing arena and President of Digital Lizard, a digital printing company with locations in Northern Idaho and Las Vegas; Tim Itano, Director of Marketing at Envision3, who brought unique marketing insights to the judging panel; and Michael Johnston, Principal at Top Graphics in Maryland Heights, MO and creator of the Print Trial Process. Entries were evaluated on uniqueness of design, number of substrates utilized, complexity of production, application use and quality of printing.
GPA's Print & Design Contest is a great opportunity for printers and end-users to showcase their best work and gain industry recognition. Now in its eighth year, the competition grows bigger and better each year, yielding new and unique examples of the opportunities available with GPA substrates. For a printed piece to be eligible, it must be from an actual job or promotion that was printed by a GPA customer on a qualified GPA substrate.