Specialist signage company falls in love with Roland's XF-640 high speed printer
Mercury Signs & Designs, a full-service graphic design and signage company based in Perth, Scotland has recently invested in a Roland SOLJET PRO4 XF-640 high performance wide format printer to boost capacity and enable it to meet the demands of a growing range of customers in the specialist commercial vehicle wrapping sector.
Founded in 2000, the company has grown to become one of Scotland's leading sign makers, offering a wide range of design and signage services. It has also built up an enviable reputation in the large-scale commercial vehicle wrapping sector, securing major contracts across Scotland to wrap fleets of buses, trucks, cranes and trams. The XF-640, purchased from Roland Authorised Dealer, Spandex, has joined a growing arsenal of production machines at the company, including a Roland VesaCAMM VP-300, a HP latex machine and a Grenadier wide format printer.
Says Tracey Shanks, Partner, Mercury Signs & Designs: "We first saw the Roland SOLJET PRO4 XF-640, or 'The Beast' as it has been nicknamed, in action at Fespa 2013 in London earlier this year and were wholly impressed with its performance. We were at Fespa looking for a high production machine that would enhance our capabilities and give us the flexibility we need to grow our expertise and client base.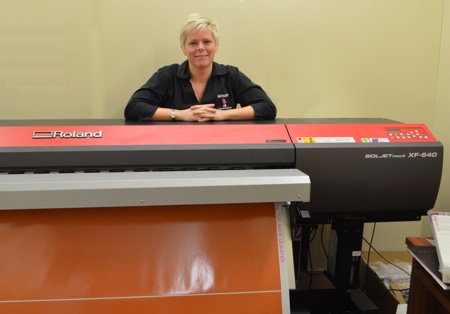 "We have a number of contracts with large bus and tram operators and trucking firms and these are very demanding jobs – requiring speed, quality and precision. So, we needed a robust wide format machine we could completely rely on; one that would run from day one and keep running, regardless of what we threw at it. The Beast has been an outstanding investment for us in this regard and we've been constantly impressed with its production ability.
"In fact, since the installation, we have moved production of a lot of our large commercial contracts – wrapping buses and trams for example, from the HP latex machine to the XF-640, due to its phenomenal speed. When you're faced with a tight turnaround, you still need as much time as possible for the wrapping of the vehicle itself – the finish has to be the best it can possibly be. The speed of The Beast means we have time to ensure that not only is the printing itself top quality, but we can also continue to deliver on our reputation for wrapping vehicles to the highest professional standard."
Designed for both outdoor and indoor applications and with a printing speed of up to 102m²/hr. with exceptional quality, the SOLJET PRO4 XF-640 is the ideal production tool for signs, banners, vehicle wraps, window graphics, POP displays, exhibition show graphics, posters and more. The Beast is compatible with Roland's newest eco-solvent inks, ECO-SOL MAX2 for an expanded colour gamut and fast drying times and offers a dual mirrored CMYK ink configuration for consistent colour imaging.
Miss Shanks says the Mercury team also been very impressed with Roland dealer, Spandex. A very smooth sales process, competitive pricing and comprehensive training and aftersales service were all cited as key factors in ensuring the Mercury had the confidence to once again invest in Roland technology.
Concludes Miss Shanks: "Put simply, The Beast just delivers on what it says it will, and in a high pressure production environment, the importance of this cannot be overstated. We wanted a powerful production machine that we could rely on; that could be trusted to keep producing high quality work at a great speed, with an easy learning curve and minimal maintenance. The Beast gives us all of this. It established itself very quickly as a shining light in the Mercury production family and we couldn't be happier with its performance."