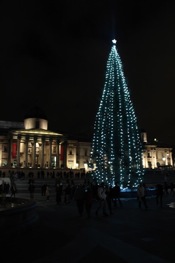 London's festive season once again kicked off in sustainable style with the lighting of the iconic Trafalgar Square Christmas Tree on 6th December.
The traditional annual gift from Norway to the UK will be the 67th in the series of trees donated by Oslo to London that symbolises the good relations that exist between both nations. This year's Christmas tree is 24m high and approximately 55 years old and was felled during a special ceremony on 19th November, attended by the Mayor of Oslo, Fabian Stang and the Mayor of Westminster, Sarah Richardson.
The Norwegian Spruce has been harvested from a PEFC-certified forest from the Ostmarka area just outside Oslo. Jon Christiansen, head of the forest owned by the city of Oslo, said that they have prepared this tree for a long time to be sent to London. "The trees that are selected as potential gifts get extra care and treatment every summer," said Jon. "They get extra space around them so they get a lot of light and can grow free from competition from other trees. They are also fertilised and cared for so that they will have many regular branches and become dense and fine and look good as Christmas trees."
Being from a PEFC-certified area ensures that the forest from which the tree has been taken is managed under strict controls and guidelines, to ensure that the forest and products leaving it are legal and sustainable. PEFC is a unique global certification system which works by endorsing national forest certification systems and with over 230 million hectares of certified forests across 30 countries, is the world's largest forest certification system.
This year a plaque was unveiled by the Greater London Authority (GLA) bearing the Coat of Arms of the City of Oslo and City of Westminster. The Lord Mayor of Westminster, Councillor Sarah Richardson stressed the importance of the Christmas tree coming from a sustainably managed forest, saying: "We are very pleased that this wonderful great gift from the people of Norway comes from a forest managed according to sustainable principles. The international forestry standard PEFC is an important contribution to an environmentally friendly forestry, and we share the importance that Norwegians attach to this."
Mayor of Oslo, Fabian Stang, added: "My father was a forester and I am therefore a natural supporter of us to engage in an active but sustainable forestry both in Oslo and in Norway. In Oslo's forests it is important that we take into account biodiversity and outdoor recreation and hiking areas while we also conduct active forestry."
For many Londoners the Christmas tree and carol singing in Trafalgar Square signal the countdown to Christmas. The tree was lit on the 6th December and will remain in Trafalgar Square until just before the Twelfth Night of Christmas, when it is taken down and recycled, being chipped and composted for mulch.