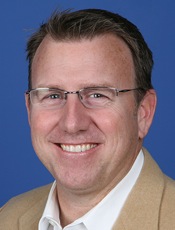 Irvine, Calif. – Roland DGA Corp. has announced that the company's president, Rick Scrimger, has been appointed to the International Sign Association (ISA) Board of Directors, one of three new board members named for the 2014 – 2016 term.
With approximately 2,300 member companies, ISA is dedicated to supporting, promoting and improving the sign industry through government advocacy, education and training programs, technical resources, stakeholder outreach and industry networking events. The Board of Directors serves as the governing body of ISA, responsible for setting the organization's policies and objectives while managing its events, committees, publications and financial resources. In addition to serving on the Board of Directors, Scrimger has accepted a position on the ISA Dynamic Digital Signage Subcommittee.
"The International Sign Association is an important industry organization and a valuable resource for its members worldwide," Scrimger said. "It is an honor to join this tremendous leadership team in its efforts to help advance the industry and serve the interests of sign businesses everywhere."
Scrimger brings to his new roles more than 20 years of sign industry experience, including 16 years with Roland in senior-level management positions. His past contributions to ISA include service on its Trade Show Advisory Board and Steering Committee.
As president of Roland DGA, Scrimger manages the company's operations across the Americas, providing strategic direction to drive revenues and position Roland products for profitable growth. A member of Roland DGA's Advisory Board, he also serves on the Global Senior Executive Team for parent company Roland DG.
A recognized leader in a range of industries, Roland provides an award-winning line of digital printing equipment for the wide-format market, as well as advanced engraving machines, personalization devices and 3D modeling technologies. Designed to help creative and technical professionals achieve their goals, Roland products are precision engineered and backed by the company's industry-leading Roland Care support and service offerings, including in-depth training and education programs.