Scotiabank has a fully outfitted print facility that it produces a variety of different work from. This facility is equipped with the latest in digital print and finishing technologies as well as a full mail shop. When the time came to upgrade their paper cutter from a Triumph 4850EP Scotiabank selected the EBA 551LT cutter.
The EBA 551LT Cutter is built on the same platform as the EBA 551 paper cutter but comes with a front and back lift table. Having a lift table enables operators to move paper much more easily and with reduced back straining. The fully hydraulic EBA 551LT is programmable with up to 9,800 steps of programming, the photocell safety guard enables quick operation while ensuring the utmost in operator safety. Recently launched the EBA 551 LT is growing in popularity as the reliability and quality of the EBA 551 paper cutter becomes more widely known and digital printers look for a professional paper cutter without paying for models that are beyond what they actually require.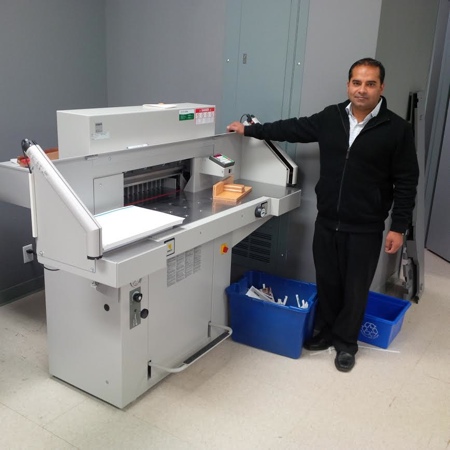 "Scotiabank chose the EBA 551LT specifically with the lift table knowing the asset was a 15-20 year purchase and the lift table would make it easier on my staff to be quick, efficient and safe in cutting. The programming, photocell safety guard and adjustable clamping pressure were all added features that we see great value in on this new EBA 551L T Cutter." said Rashad Shallwani, Manager Distribution and Print Production, Scotiabank.
"We have been offering EBA paper cutters to the market for 30 years and many of those first models are still being used in production. While this is not a great sign for us reselling new paper cutters to those users it does prove that the EBA line of paper cutters are well built and very reliable. This new lift table on the 551LT cutter provides another professional feature to a paper cutter growing in popularity with digital and short run printers." said Michael Steele co-Owner of Sydney Stone.
Sydney Stone will be presenting the new EBA 551LT at the upcoming Graphics Canada show on booth #1250