Epson SureColor printer chosen for its exceptional quality and speed
Worcester, UK - Signs Express Coventry specialises in vehicle graphics, interior and exterior signage, banners, window graphics, exhibition and display graphics, labels and stickers and DDA-compliant health and safety signage.
The company was founded in 1996 and supplies a full range of signage solutions to numerous companies in and around the Coventry area including local airports, engineering firms, construction and transport companies, car dealerships and many more.
Earlier this year, the 5-strong company was looking to add to its existing Mutoh ValueJet printer in order to meet increased demand for its signage solutions. Geoff Manns, Signs Express Coventry's Centre Manager, explains: "Our previous printer – whilst still fully functional – was not as fast as we now needed it to be in order to meet customer requirements. We visited Sign & Digital UK 2013 and met with all the major manufacturers to make a fair comparison and establish what was on offer."
Geoff Manns had previously met with Stanford Marsh Group Graphics' (SMGG) Steve Guest and visited him at the trade show. As a reseller of a wide gamut of printing hardware and the associated peripherals, SMGG was able to offer independent advice as to the best-fit solution for Signs Express Coventry's needs.
After much consideration, Geoff Manns settled on the 64"-wide Epson SureColor SC-S30600 printer. Designed to offer efficient and environmentally-friendly production at the lowest total cost of ownership, the SC-S30600 enables print firms, signmakers, digital copy shops and repro centres to produce everything from posters, signs, banners, backlit panels and POS to vehicle wraps, interior decorations and exhibition displays.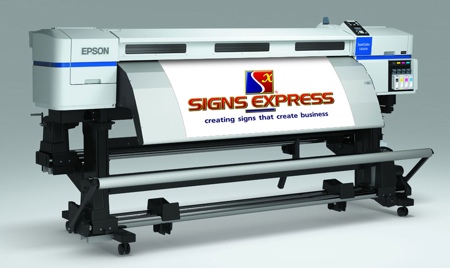 Geoff Manns states, "We chose the Epson printer for its exceptional quality and speed. Pricing was also a key factor and – as an added incentive – SMGG was offering its 0% finance deal on the printer which ultimately swung the decision."
As part of the established, privately-owned business – Stanford Marsh Group – SMGG is able to offer the 0% finance deal through its own in-house finance company and cash reserves. It is a genuine offer and has been devised to facilitate customers wanting to invest in the most up-to-date wide format digital printing equipment.
The Epson SureColor SC-S30600 printer was installed in June 2013 by SMGG within a day. The printer is running on Epson original inks and is guaranteed under the standard Epson warranty. Signs Express Coventry also bought a Summa cutter to operate alongside the Epson printer in order to boost workflow productivity.
"We're very pleased with the Epson printer. Since installation, we have increased our intake of work and managed to speed up the delivery of output – whilst maintaining the quality that our customers have come to expect," says Geoff Mann.
On working with SMGG, he adds, "We've been most impressed with the professionalism of the organisation. I previously had no idea of the scale of the Stanford Marsh business - the company could not have been more accommodating."