Brussels, Belgium – International Paper, the world's largest paper and packaging company, has announced the re-launch of two brands, JetSet™ and JetStar™ papers, specially developed for high speed inkjet printing.
"The re-launch of JetSet™ and JetStar™ papers follows an investment we made earlier this year in our French Saillat mill to upgrade the quality of pigmentation", says Gerald Demets, Commercial Director for Uncoated Freesheet at International Paper. "This upgrade significantly improves the final printing results of JetSet™ paper and enables us to meet the growing printability requirements of customers in this segment."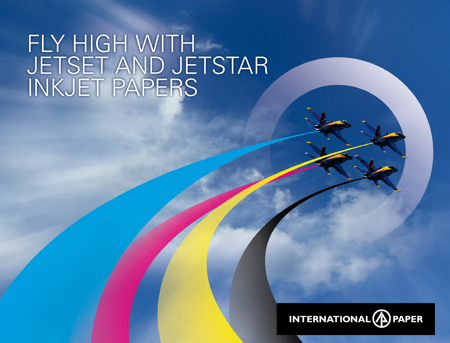 With high brightness, bulk and opacity, as well as high optical density and a wide colour gamut, JetSet™ paper delivers vivid colours for excellent image contrast when working with dye-based and pigmented inks.
International Paper's inkjet offering also includes JetStar™ surface-treated paper designed for use with pigmented inks. JetStar™ quality allows colour stability, enhanced print performance and better fade and water resistance; it offers visibly better results over standard offset paper. JetStar™ paper is also available with ColorPRO technology.
Both JetSet™ and JetStar™ papers have proven records in the field of variable data printing. They offer superior performance in a wide range of applications, such as direct mail, financial printing, reports, catalogues and brochures.
JetSet™ and JetStar™ papers have been tested and used with all leading high speed inkjet printing systems, including Kodak, Océ, Screen, HP and Impika.
Both products are Programme for the Endorsement of Forest Certification (PEFC) and Ecolabel certified while the producing mill, the Saillat mill in France, is one of the world's best-performing sites in terms of CO2 emissions, with an average wood procurement distance of 128km.
For more information on International Paper's inkjet offering, please visit www.IPinkjetpapers.com or contact Inkjet Papers Brand Manager[email protected].