New sales company Koenig & Bauer do Brasil in Sao Paulo
Since the beginning of September 2013 Koenig & Bauer AG (KBA) has acquired the majority stake in its former sales agency Deltagraf Representações Comerciais ltda. in São Paulo, Brazil, Latin America's largest market.
The new Brazilian subsidiary operates under the name Koenig & Bauer do Brasil. This follows the foundation of KBA Latina SAPI de CV based in Mexico city in August 2012 for the markets Mexico, Venezuela, Colombia, Ecuador, Peru and Bolivia.
As the world's second-largest press manufacturer, KBA aims to expand its position in the growth market Brazil with this investment in sales and service. In addition, the change of name signals the long-term commitment to the customers there. "It is our goal to continually strengthen our presence in Brazil," explains KBA sales director Jan Drechsel.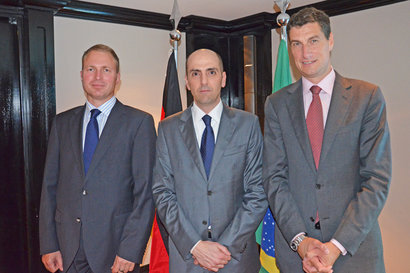 At the beginning of September KBA deputy president Dr. Axel Kaufmann (r), Deltagraf managing director Luiz Caesar Dutra and KBA sales director Jan Drechsel (l) announced the foundation of Brazilian sales subsidiary Koenig & Bauer do Brasil (1)
Deltagraf took over all sales and service activities for KBA web presses in Brazil six years ago, and added sheetfed presses in March 2009. The company has since been very successful in both segments. The firms Oceano und Editora Abril print on several 16- and 48-page Compacta commercial presses as well as single-width Comet newspaper presses. Brasilgrafica, the largest Brazilian packaging printer, has two high-performance KBA Rapida 106 sheetfed presses, a plinth-mounted eight-colour press with two coaters as well as an eight-colour Rapida 106 with coater. Atualcard, one of the biggest internet printers in Brazil, received two Rapida 105 presses, one in the middle of 2012 and the other at the beginning of this year. Deltagraf has also landed further contracts with some other major printers, such as Emibra, Rosni and Grafica Rami.
Koenig & Bauer do Brasil will continue to expand its service network step by step. The newest KBA subsidiary will also offer service support to printing firms in Argentina, Chile, Uruguay and Paraguay. Managing director Luiz Cesar Dutra has over 20 years of experience in the graphic arts industry. Service manager Sigfried Köstlein, sales manager Lincoln Lopez, finance director Fernando Maia and a well-trained 20-man team are on hand to assist him.
In July 2014 Koenig & Bauer do Brasil will take part in Expoprint Latin America in São Paulo presenting cutting-edge printing technology.