Chicago, IL - GPA proudly features their latest promotion showcasing how the right substrate can enhance the performance and functionality of any given application. Two posters were created for use in the healthcare and pharmaceutical industries: one encouraging patients to leverage their pharmacist's expertise for display in a pharmacy or doctor's office, and another illustrating the layers of the skin, ideal for a dermatologist's office. Both posters were printed on ClingZ® for HP Indigo because it is easily applied, repositioned and removed with no adhesive residue. The secret to its ability to go nearly anywhere is its inherent static charge that allows the material to adhere on either side to virtually any smooth indoorsurface.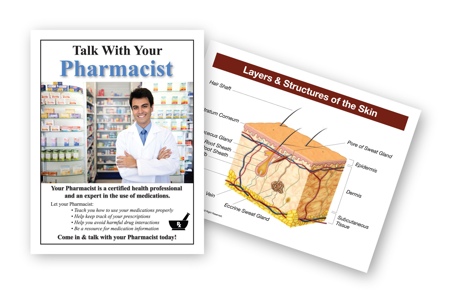 Due to its ease of use and versatility, ClingZ® is the popular choice in today's fastest growing markets. In addition to the healthcare and pharmaceutical, other big industries using ClingZ® are retail, sports and entertainment, food and beverage, event marketing, schools and higher education, and many more. Popular applications within these markets include point of purchase signage, direct mail, magazine inserts, temporary wall and window décor, seasonal promotions, educational signage and beyond.
ClingZ® is compatible with a wide variety of finishing processes including perforating, scoring, folding, die cutting and kiss-cutting, and it is also machine insertable and wet or dry-erasable, allowing for endless creative uses. Available for offset or HP Indigo presses, ClingZ® is just one of GPA's many innovative solutions for applications that demand high performance and application versatility.
For more information or to receive a sample of this application, call GPA Customer Support at 800-395-9000 or visit www.askgpa.com.