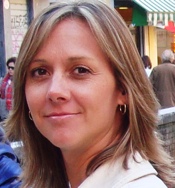 San Leandro, CA – INX Digital's longtime International Marketing Manager recently was promoted and assigned additional responsibilities. Susie Mendelssohn now is serving as North American Sales Manager and will continue to be based in San Leandro, California.
In her new role, Mrs. Mendelssohn will direct efforts to expand the channel distribution program through the sign and graphics market. This includes working with traditional type distributors who are looking to transition to digital printing, as well as managing the direct sales channel for larger customers.
Susie Mendelssohn has worked at INX Digital for 14 years after graduating from Texas A&M University where she was an NCAA Division I All-American swimmer who competed at the 1996 U.S. Olympic trials. She began her career with the company, then known as Triangle Digital INX Co., as an international customer service manager. In 2009, she was named International Marketing Manager and has handled all marketing efforts for the digital side of the business in the U.S. and overseas.
"For our company to grow exponentially, we need to find new channels within traditional printing and on the industrial side of the business. This is a tremendous opportunity and I'm looking forward to the challenge," said Mendelssohn. "We have built a very good reputation in the industry with outstanding products that meet today's demands. Our customers are very loyal, perhaps due to the level of communication we have with them. We respect their feedback and in turn, they respond to the products we develop for them."