Innovative exposure technology nyloflex® NExT and NEW nyloflex®ACE printing plate convince customers
Founded in June 2001, Conflex SPb serves the Russian market with flexible packaging. The company rapidly developed from infancy to one of the leading suppliers and employs more than 250 people today. Customers include the largest food and FMCG producers in Russia as well as multinational players. The product portfolio is large and varies from packaging for confectioneries, snacks, groceries, frozen goods, cosmetics and hygiene products, freeze-dried products to ice cream and dairy, as well as labels for PET bottles, and group packaging.
"We can say that our quality in flexo printing is comparable to offset and gravure printing," states Andrei Dmitrovich, head of the plate making department at Conflex. "Therefore our advertising slogan 'We print the world! Try it and believe it!' is verified by the quality of our packaging".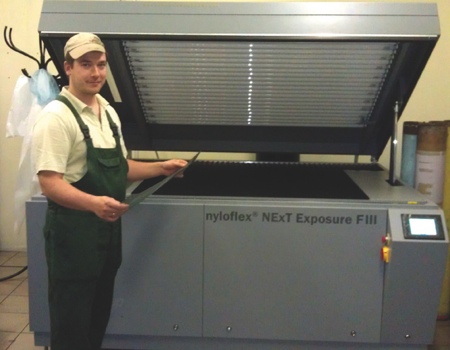 Conflex and Flint Group have a close cooperation, which is based on partnership. The NEW nyloflex® ACE printing plate is very successful in the Russian market, as it offers considerable benefits to the printer with a precise reproduction of details, images of higher contrast and smoother vignettes. In addition, the NEW nyloflex® ACE plate shows its strengths particularly with outstanding stability on press and reduced downtime, due to the clean running nature during printing. It displays excellent properties when used with the nyloflex® NExT exposure technology.
The innovative exposure technology, nyloflex® NExT, exploits its potential to improve the highlights and fine vignettes and is globally established as flat top technology. In flexible packaging, it enables an excellent ink transfer, particularly in solids. The LED based exposure technology offers precise and reliable surface screening as well as the reproduction of the finest image details. In corrugated post-print, the nyloflex® NExT exposure shows not only an improvement in reproduction but also a significant reduction of the fluting effect.
The exposure technology is applicable for all digital flexographic printing plates, regardless of plate thickness and format and can be easily implemented into the existing digital workflow. In contrast to most of the competitive technologies, there is no need for additional consumables.
In autumn 2012, Conflex decided to buy a nyloflex® NExT Exposure for the St. Petersburg site. During the installation and introduction phase, the company profited from the comprehensive technical support and expertise of the Flint Group employees. Since then there has also been a significant improvement in the quality of print achieved under this new introduction. During several open houses, customers could also witness the advantages of this innovative technology.
Since then additional nyloflex® NExT Exposures have been installed in the Russian market – as the technology for highest quality demands.