Dubai-based augmented reality brand, 'Ogle' has spread to New York in its latest project at Photoville with television broadcaster NBC.??
Presented by NBC News, the documentary series "Reporting Our World" hosted by the passionate Ann Curry was showcased in September at Photoville 2013, In Brooklyn Bridge Park on New York City's Waterfront. ??
Photoville, organized by United Photo Industries, a Brooklyn-based organization, brings the photographic community together by presenting photography, installations and events in unique locations, usually off-the beaten path where the focus lies in content and is accessible to everyday people from all walks of life.??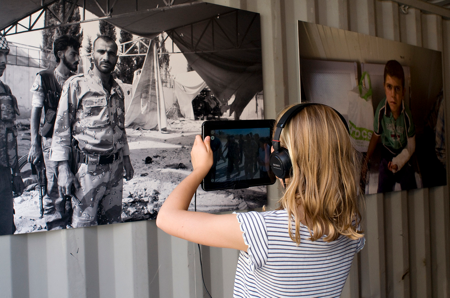 It is estimated that 58,000 visitors passed through the Photoville's 'village' on the New York City Waterfront over 2 long weekends to see over 45 Exhibitions and over 80 programming partners, in addition to NBC News, which included the New York Times, Magnum Foundation, Open Society Foundations, INSTITUTE, Photo District News, VII Photo Agency, TIME Magazine and Media Storm. ??
In particular, the "Reporting Our World" photographic exhibition had an edgy way of reaching viewers with a multi-media experience using Ogle Augmented Reality technology. Viewers had the option to 'see more of the story', through their smartphones, from footage from where the photos were actually shot. Six photographs that cover global topics come alive when viewed through the Ogle app, pushing 'visual journalism' to the next level. ? ?
"The Ogle app was so accessible to incorporate in the exhibition and everyone who walked into the container was transported into Ann's world by not only her images but by her reporting" remarked Laura Roumanos, Executive Producer of United Photo Industries and co-founder of Photoville, "From young children to seasoned photojournalists, everyone was blown away by how effortless the technology was and it also helped that Ann's Photographs and stories were so engaging."
With the potential to engage audiences even deeper than ever before, Ogle is enabling companies to tie digital experiences like commercials, behind-the-scenes footage, motion graphics and games to their products or branding with one, simple app that everybody can use.??
While being cost-effective for companies, the end-consumer can download the app free of charge. Ogle, still less than one year old, is making waves within the Augmented Reality Industry, and boasts the fact that the Ogle app has been used in campaigns across 20 different countries. Ogle's large scale platform, coupled with swift advances in smartphone technology and network speeds, audiences around the world are now gaining access to this revolutionary way of advertising.?