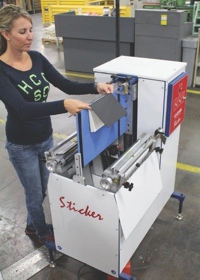 Since 1901, Maple Press has proudly crafted books that have entertained and educated readers. Over 13 million hardcover and soft cover books are produced annually in a variety of trim sizes and bind styles. Their combination of web, sheet-fed, and digital presses gives Maple Press the flexibility to handle a wide range of quantities using the most cost-effective platform. They have the ability to manufacture hardcover and soft cover books in trim sizes ranging from 4 1/4" x 6 1/4" to 9 1/2" x 12" at their 200,000 square foot facility in York, Pennsylvania.
On Demand Machinery manufacturers a complete line of bookbinding equipment that enables you to produce on-demand, case-bound, hardcover books in-house. There's no need to purchase expensive pre-made covers. It's fast and easy to produce your own 'library-quality' hardcover books. The ODM?bookbinding system is easily 'scalable' to fit your production requirements.
The ODM Casemaking System™, Sticker™ and Smasher™ enable you to produce 'library-quality' children's, yearbooks and photo books.
Download ODM's Fall 2013 eNewsletter featuring their latest innovation bookbindery equipment and installations. http://www.odmachinery.com/news.htm
"Maple Press has been working with ODM – On Demand Machinery for the last six months. My direct contact has been with John Jacobson, Jr., President. John has guided us through the selection and ordering of equipment as well as the installation and training process.
During my visit to ODM's plant facility in New Jersey, I learned that all of the design and manufacturing of the equipment was done in their New Jersey plant. It was refreshing to find excellent equipment designed and manufactured in the United States.
We purchased the Casemaking System™, Sticker™ casing-in and Smasher™ building-In machines and have been very satisfied with the equipment and the service that we have received from ODM."
G. Scott Simons, Vice President of Operations at Maple Press – York, Pennsylvania