Mooresville, N.C. – Next month, the large-format printing experts from Roland DGA Corp. will come together with big rig customization shop Outcast Kustoms in a one-day event focused on bringing the latest digital printing technologies to the fleet management industry.
Scheduled for Oct. 10 at Outcast Kustoms' Mooresville, N.C. headquarters, the 2013 Fleet Maintenance Council Meeting is expected to draw dozens of fleet managers from the nation's largest trucking companies for an afternoon of education and demonstrations on the art and business of fleet wrapping.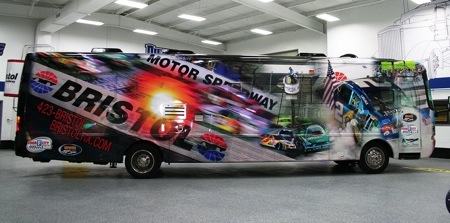 "According to the American Trucking Association, more than 3.1 million professional truck drivers log close to 398 billion miles each year in the U.S. alone," said April Locklear, who co-owns Outcast Kustoms with her husband, Kelvin. "And while commercial vehicles present a tremendous opportunity for companies to advertise their products, the vast majority of these trucks sport very little in the way of design elements, a logo at best. Our customers enjoy a distinct marketing advantage on the road by coming to us and investing in digitally printed fleet graphics. Every truck, bus or RV we see pulls into our shop as a blank canvas and rolls out of here a traveling billboard."
As owners of one of the nation's largest fleet customization shops, the Locklears understand first hand the visual impact of a well designed truck wrap. Working primarily with trucking industry leaders such as Ryder, Penske, Salem Leasing, Estes, Budget and Freightliner, the couple and their team design, print and install graphics on everything from box trucks to 18-wheelers for some of the world's most popular brands. To accommodate these enormous vehicles during the production and installation process, Outcast Kustoms has two facilities totaling more than 66,000 square feet. The magnitude of each project and the artistry involved are so unique and intriguing that the Discovery Channel's Velocity Network has given them their own reality TV show, simply titled "Outcast Kustoms."
"It really is an unusual business, and we love it," Locklear said. "We serve so many different types of companies and each has its own specific marketing objectives and design challenges. For example, for our restaurant and grocery chains, the food has to look both realistic and delicious. Skin tones also have to be right on the money. And images have to be color matched across dozens – and sometimes hundreds – of trucks, to ensure branding consistency. In the end, marketing is all about communication, and what better way to get the message out than with a big, bold and beautifully printed image?"
To produce these larger-than-life prints, Outcast Kustoms relies on a digital workflow, including digital printing equipment from Roland. Recently, the Locklears installed one of Roland's newest and most advanced printers for the vehicle graphics market, a 64-inch SOLJET® Pro 4 XR-640 large format color printer/cutter.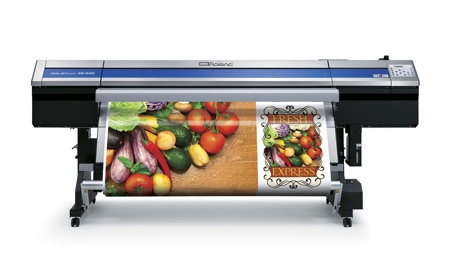 "The XR is our most powerful Roland to date and will be the focal point of our event next month," Locklear said. "In addition to being a very fast printer, it is highly precise and versatile. It both prints and contour cuts graphics into interesting shapes. The XR's secret weapon, though, is its ink. It features Roland's new Eco-Sol MAX® 2 inks, which are highly durable and available in nine colors. This is very important in our business as trucks can be subjected to extreme weather conditions over long periods of time. With Roland inks, our graphics look great on the road, months and even years after installation."
According to Andrew Oransky, senior director of marketing and product management for Roland DGA, "Outcast Kustoms is really one of the best shops in this business. Few companies can operate on such a grand scale and deliver the kind of results we see here. We look forward to meeting members of the Fleet Maintenance Council and to showing them all that our digital printing technologies have to offer."
For more information on big rig customization by Outcast Kustoms, visit www.outcastkustoms.com.