Visit Toray at Wan IFRA's World Publishing Expo to learn how to reinvent, reinvigorate and revive newspaper printing
Neu-Isenburg/Frankfurt, Germany – Toray will demonstrate how customers can buck the general market trend and reinvigorate newspaper printing at the Wan Ifra World Publishing Expo 2013, Hall 2.2 Stand 235, October 7 to 9, Berlin, Germany.
During the show, Toray will highlight the successful commissioning of its new European plate production facility in, Prost?jov, Czech Republic. The factory will produce all types of CTP waterless plates for the European, American and Middle East markets, including the highly durable MX10 plate for newspaper and semi-commercial printing. Since its introduction in 2012, the MX10 plate has provided enhanced productivity to a number of newspaper printers.
"Production at the new factory is slated to begin in November 2013, months ahead of schedule, said Mitsunori Hayashi, General Manager of Sales and Marketing for the new Toray Graphics factory in the Czech Republic. "The output from the new plant will satisfy European demand and supply products to the global market as well.
As part of its global development strategy, Toray determined that the investment in the Czech Republic plant was an important move in order for the company to meet the growing demand for waterless printing plates. Mr. Hayashi adds: "The overall newspaper printing market is certainly facing a wide range of challenges. Yet there has been a distinct acceleration in demand for waterless printing technologies within that market. For the fiscal year ending March 2012, the volume of waterless printing plate shipments was at its highest level since analog positive waterless printing plates went on sale in 1979. Over that period, Toray has made a steady effort to improve the materials used and continue to accumulate waterless printing technical know-how that benefits its customers as they work to improve their operations. These efforts are clearly being recognized by newspaper printers who are adopting waterless in greater numbers than ever before."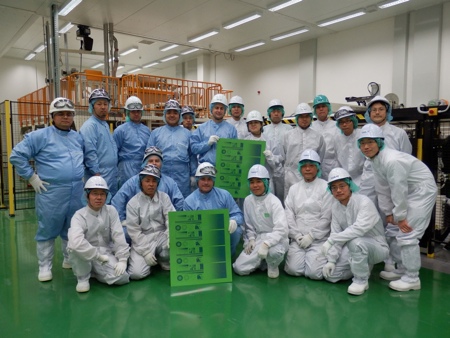 As part of its business development efforts, Toray has appointed Rinus Hoebeke, - former Kodak Newspaper Segment Director, to further develop waterless printing opportunities, expand market research, and develop industry partner relationships. Mr Hayashi comments, "Mr Hoebeke's numerous contacts and decades of experience in various technical and high-level sales and marketing functions will be invaluable in developing cohesive communications between Toray and its independent dealers."
At the expo, Toray will also make available to attendees its new Toray Waterless Journal produced in cooperation with Toray customers and partners. Designed to inform the market about technical developments, this publication shares experiences from waterless users and discusses opportunities the technology provides for newspaper printers. In addition to ensuring efficient and cost effective printing of daily newspaper titles, many users of the eco-friendly waterless printing process are able to expand their product offerings by producing exciting, high quality products on a variety of paper stocks for the semi-commercial print market. This adds new revenue streams and increases press utilization by taking advantage of off-hours idle time. The improved quality offered by waterless printing makes this new service an attractive one for newspaper printers to deploy.
The Toray Waterless Journal will be printed on a KBA Cortina press by Freiburger Druck, the printing unit of the Badische Zeitung, which has repeatedly won the prestigious 'Newspaper Printer of the Year' award, most recently in 2012.
Visitors to the Toray stand will have the opportunity to 'touch and feel' examples of the latest waterless printed products, characterized by their exceptional quality.
Mr Hayashi concludes, "The fact that the Toray waterless plate business is bucking the general market trend and still growing in a very challenging environment demonstrates that Toray's decision to invest in a European plate production plant was the right decision to make. The opportunities the eco-friendly waterless printing process provides are reflected in the market uptake for Toray waterless plates. We are pleased to be able to help our customers improve productivity, increase asset utilization, open up new business opportunities and maintain their competitive edge by ensuring a steady supply of waterless plates and by providing a high level of service and quality for years to come."
For more information about Toray's waterless technology please visit www.waterless-print.com/en/