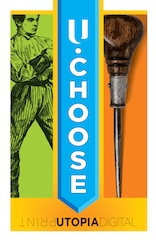 Combined Locks, Wis. -- U Choose: Digital Utopia, Appleton Coated's new boxed-card promotion, playfully demonstrates the personalized potential of digital printing using Utopia(R) coated and Curious Collection® papers. The card deck features themes of "either/or" dualities, while encouraging comparisons between grades, colors, finishes and printing techniques.
Delivering an individualized presentation for every recipient, more than 13,600 different cover-art combinations were printed – in sequence, on the same press. Each unique box contains 39 cards printed using today's top, digital printing engines: HP® Indigo, Xerox® iGen™ and Kodak NexPress. Twelve papers from both the Utopia and Curious Collection lines are printed on the three engines, allowing for side-by-side comparisons.
"U Choose emphasizes the seemingly limitless choices we now have. This freedom has changed the way we work, the way we think and the possibilities of print to engage and motivate with variable content and design," says Ferkó X. Goldinger, Appleton Coated's marketing manager.
He continues, "We invite creative professionals to explore the many ways digital printing provides attention-getting appeal and superb quality reproduction when combined with the extreme versatility of variable data technology, and the powerful performance of Curious Collection and Utopia digital papers."
For a copy of U Choose: Digital Utopia and for more information about Appleton Coated, Utopia and Curious Collection, appletoncoated.com.