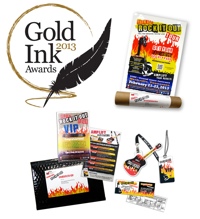 Chicago, IL – GPA is proud to announce that they have won Silver in the 2013 Gold Ink Awards, created to recognize superb craftsmanship and presented by Printing Impressions magazine. GPA won in the Digital Printing, Variable Data and Personalization category for their marketing campaign that was created internally and printed on GPA's Ultra Digital® substrates to promote customer attendance and visibility at the Dscoop8 2013 Annual Conference.
GPA created the "Rock it Out Tour" to be a fun, integrated and highly personalized campaign. It began with a personalized, rock-themed direct mail poster that was mailed to a targeted list of customers and included a personalized URL (pURL) and unique QR code. If respondents to the pURL confirmed that they would attend Dscoop8, their follow-up mailer included a VIP pass for special perks at Dscoop8, a VIP luggage tag, raffle tickets, and an informational set list, which were all personalized using variable printing.
The final component to the campaign was their official "Rock it Out Tour" gear kit that recipients picked up at GPA's booth at Dscoop8, which helped to increase booth traffic. It included a t-shirt, button, personalized magnet and sticker printed on GPA substrates, and also a temporary tattoo and drumsticks. The kits were collated and packaged by hand to ensure that all the variable pieces matched.
The campaign was printed on a variety of GPA's Ultra Digital® substrates by Top Graphics of St. Louis, MO on their HP Indigo 5500 press. It utilized unique media such as magnet, heat transfer paper, silver foil board and static-charged ClingZ®, and also repositionable vinyl, Teslin®, pearlescent paper, cast coated board, and pressure sensitive papers. By using a variety of substrates, GPA wanted to demonstrate how they could work together in a cohesive campaign, or alone to showcase different application possibilities.
GPA is the premier source for specialty substrates and solutions for offset anddigital printing. Products include coated and uncoated papers, pressure sensitive and specialty papers, synthetic films and substrates exclusively engineered for HP Indigo and other digital presses. GPA is an HP Indigo Preferred Partner and a Diamond Partner of Dscoop (Digital Solutions Cooperative). For more information on GPA or the products it offers, visit www.askgpa.com or contact GPA Customer Support at 800-395-9000.