Booth visitors will receive a free personal journal trimmed on this revolutionary crossover trimmer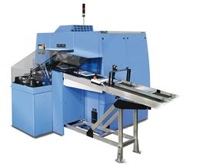 Operating at 4,500 cycles per hour with an 85mm trim thickness capacity—the highest in its performance class—the fully automated Solit Three-Knife Trimmer is designed to perform in both digital and medium-run offset production environments, making it a highly efficient trimming solution for today's evolving print landscape. Print professionals can experience its unmatched performance first-hand at Muller Martini Booth #831 during Print 13.

Muller has modeled the Solit after their highly successful Orbit platform. The Solit mirrors the Orbit's changeover time of less than three minutes and delivers outstanding trim quality. Visitors to Booth #831 can see for themselves the Solit's unique capabilities, including:
Fast set-ups. Since the trimmer can switch pressing plates and knife cassettes without the use of tools, and it features full automation from the infeed to the trimming center, changeovers happen in under three minutes—the shortest set-up time in its class.
Consistently excellent trim quality. Like other Muller machines, the Solit features patented SmartPress Technology which helps ensure a perfect trim.
Quiet and accessible. The Solit's servo-controlled axis and robust, single piece frame provide for quiet runs, a short footprint and excellent accessibility.
Investment protection. The Solit's automation platform is designed to perform in both digital and offset production environments, making it not only a highly efficient trimming solution, but a sound investment for printers planning to cross over to digital manufacturing, as well.

In addition, booth visitors will not only get to see the Solit perform at Print 13, but they can also take home a free personal journal trimmed on the Solit.

Jody Harrison, Product Manager, Book Binding Division, summed up the Solit's bottom-line value this way: "More and more of our clients' customers are looking for one-shop solutions for their printing needs. And that's what makes the Solit such a great choice for the mid-range market. Not only does it provide all the automation, speed, throughput, and quality that are found in Muller's top-line trimmers, but it can process a variety of products and formats. So you can run a quick digital job through while you're readying longer production work."

Print 13 takes place September 8-12, 2013 at Chicago's McCormick Place. Muller Martini's theme at this year's show is "Investment Protection. Make Ready for Change." Muller's engineers and product specialists will be on hand in Booth #831 to demonstrate manufacturing technology that's been designed to grow as business grows, through components that add capabilities to accommodate dual production output.