Paterson, NJ – The Christian Broadcasting Network has served as the benchmark for religious programming for over 50 years. Founded by televangelist Pat Robertson in 1961, the Virginia Beach, Virginia organization is well known for The 700 Club, an iconic popular live TV program that airs weekdays. However, the hidden gem at CBN can be found in print production, a football field sized area that serves as the hub to support marketing activity where 90% of all products are created and completed in-house.
Besides The 700 Club, there is the 24-hour CBN News outlet and Superbook, a children's ministry segment that involves animation to tell stories contained within the Bible. While the shows have a devoted and loyal following, the international ministry generates substantial revenue from large scale campaigns by printing millions of pieces annually. Leading the way in the finishing department for the last two years is a Colter & Peterson 54-inch Saber® X15, a heavy duty paper cutter with an Automatic Waste Removal system.
"We print an 8-page monthly magazine with full bleeds and a circulation of 450,000," said Maurice Russell, Laser Operations and Support Systems Manager, who supervises seven people in the finishing department and also oversees two shifts on the variable data side.
"We also print about 22 million letters per year for our corporate partners, while supporting other corporate entities such as Operation Blessing and Regent University with various print and finishing jobs. Each letter contains between 1-6 components, and may include a combination of items ranging from a brochure and literature to business and trading cards."
CBN was looking to replace a 54-inch Lawson with a newer 45-inch Polar when Russell decided to compare other paper cutters. CBN was very pleased with their service technician, but was unaware that Lawson had been bought by C&P. After providing specs and informing Bruce Peterson of his budget, Russell was surprised to learn he could afford another 54-inch machine.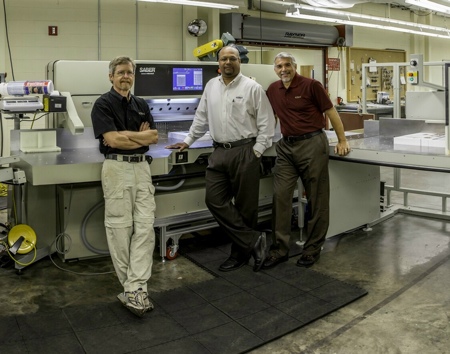 "We visited four different shops to see the Saber and took some time to do a bit of homework. Essentially, Bruce said they could manufacturer the 54-inch quicker so he made me a deal I couldn't refuse."
That decision came right before Graph Expo in 2011. However, there was one small hitch to be addressed. CBN's busiest period runs from mid-November through January, and Russell did not want to complicate the operation of having his crew learn about a new piece of machinery at a critical time. C&P's response was to first provide him with a loaner set-up.
"We bought the Saber with a stack lift, air jogger system and unloader. When the 54-inch cutter was installed in February, we were able to put it in the same place as the loaner without having to moving anything. The transition took less than 1-1/2 days, with very little down time."
The Saber 54-inch cutter trims work done on CBN's Komori 6-color sheetfed press and a Drent Global UV 8-color mid-size web press, in addition to a pair of small 2-color envelope presses. Designed for longevity and reliability, the Saber X15 possesses a Microcut system with a 15-inch touch screen, a new hydraulic system and new cut optimization with state-of-the-art electronics.
"I understood the Saber would increase my production 40 percent, and possibly by as much as 85 percent with a two-man crew," recalled Russell. He originally joined CBN in a Human Resources capacity, but had previous bindery experience and was asked to run the operation 10 years ago because of his outstanding management skills.
"I'm impressed with the double-sided blades and its sturdiness for the amount of work we do. For example, the Superbook program includes a youth book and we are producing many of the companion materials including trading cards, posters and the Sunday school curriculum. The trading cards are 4-color and measure 2-1/2 by 3-1/2 inches with rounded edges. That's a major reason why we needed the Automatic Waste Removal system and it has helped our productivity.
"And the service we receive from C&P is terrific," concluded Russell. "The same guy who has taken care of the Lawson for years also services this machine. Overall, the Saber is a great product that has exceeded all of our expectations."